Chevening Flats, designed by Llewellyn Williams and built in 1929, is an early example of a luxury apartment building in Wellington. The flats occupy a prominent site near the corner of Salamanca Road and Kelburn Parade in the suburb of Kelburn, and were built for Miss Emma Rainforth, a graduate of Otago University and for many years a teacher at Prince Albert College in Auckland and Wellington Girls' College. Wellington experienced an economic boom in the early part of the 1900s, and the suburb of Kelburn opened up once the cable car was completed in 1902. The subdivision was advertised to attract a wealthier clientele than some of the other Wellington suburbs developing at the some time, located further from the central city. Chevening was built for a wealthier type of tenant - and the occupations of its tenants over the years reflect this. In this respect it is representative of the suburb; but photographs of the suburb at the time it was built show that a masonry block of flats was unusual amongst the mostly residential housing, albeit substantially sized houses. Built for a professional, unmarried woman as accommodation for herself and to provide retirement income, makes it unusual for its time. Chevening is a four-storey concrete and brick structure. Its contrast of brick work and painted concrete and its stripped classical style make it an elegant building. The front façade is the most distinctively decorated and has strong visual appeal as it is a near-symmetrical massing of two distinct bays. The middle part of the façade, between the bays, follows the lines of a vestigial classical portico, with two slender pilasters stretching over the three floors. There is decorative brickwork between and to each side of the pilasters. Each of the four floors contains one flat, with two garages at ground level. Llewellyn Williams was a partner of Frederick de Jersey Clere before setting up in practice on his own in 1923. He also designed the De Luxe (now the Embassy) Theatre in Wellington and a number of other buildings, but particularly specialised in theatres. In 2011 the flats were strengthened to 100 percent of the current Building Code and refurbished to a 1920s style, with period fixtures and fittings. Much of the joinery and panelling in the hallways and kitchens remains, including the former meat safes now reused as cupboards. The original fireplace on the fourth floor remains in situ; this was the flat occupied by Miss Rainforth. Chevening Flats has aesthetic, architectural, historical, and social significance. It is representative of the prosperous 1920s building boom that helped transform Wellington into a modern city. Today, the combination of original features and period fittings and furnishings makes it look and feel like a 1929 luxury apartment building, and its distinctive main façade has strong visual appeal.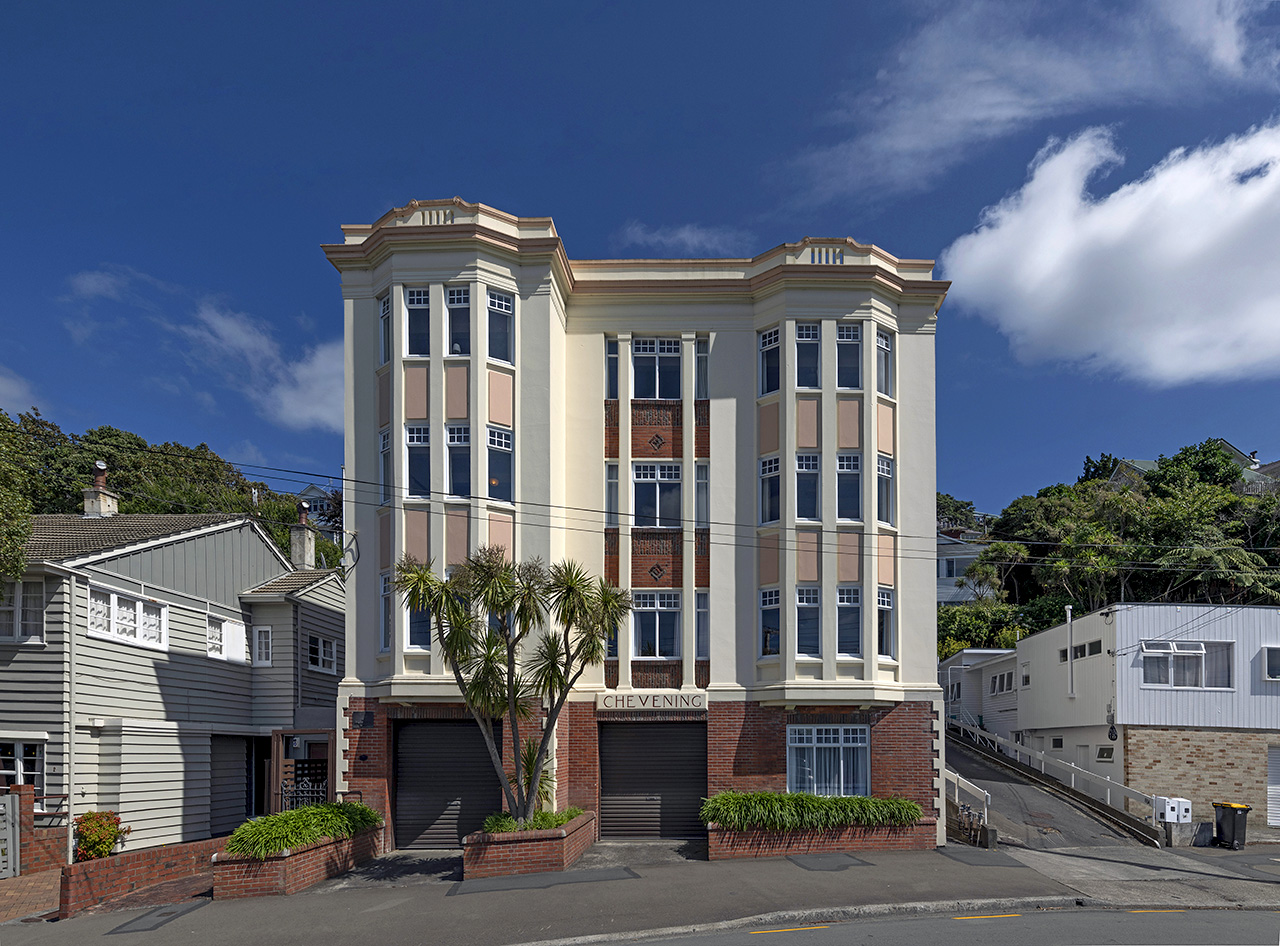 Chevening Flats | Lianne Cox | 15/11/2011 | Studio Pacific Architecture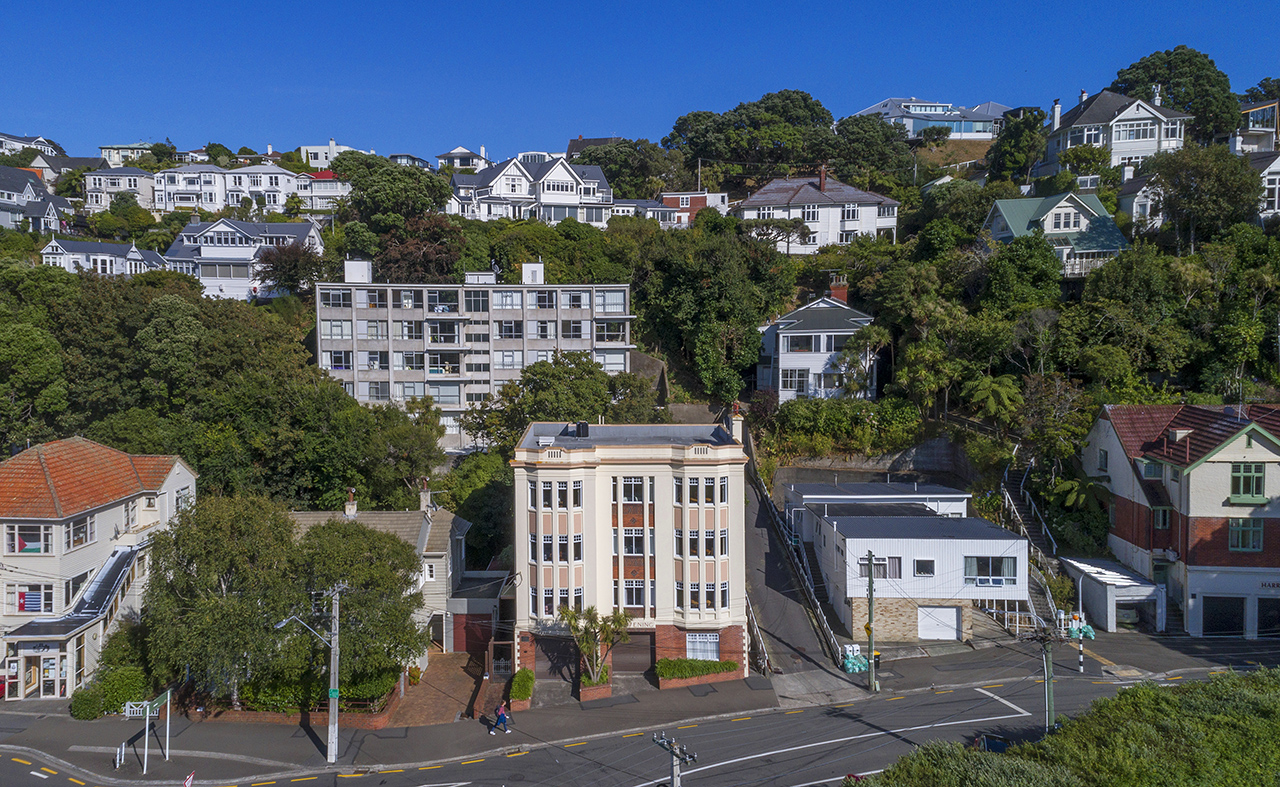 Chevening Flats, front (east) and north side | Vivienne Morrell | 28/11/2011 | NZ Historic Places Trust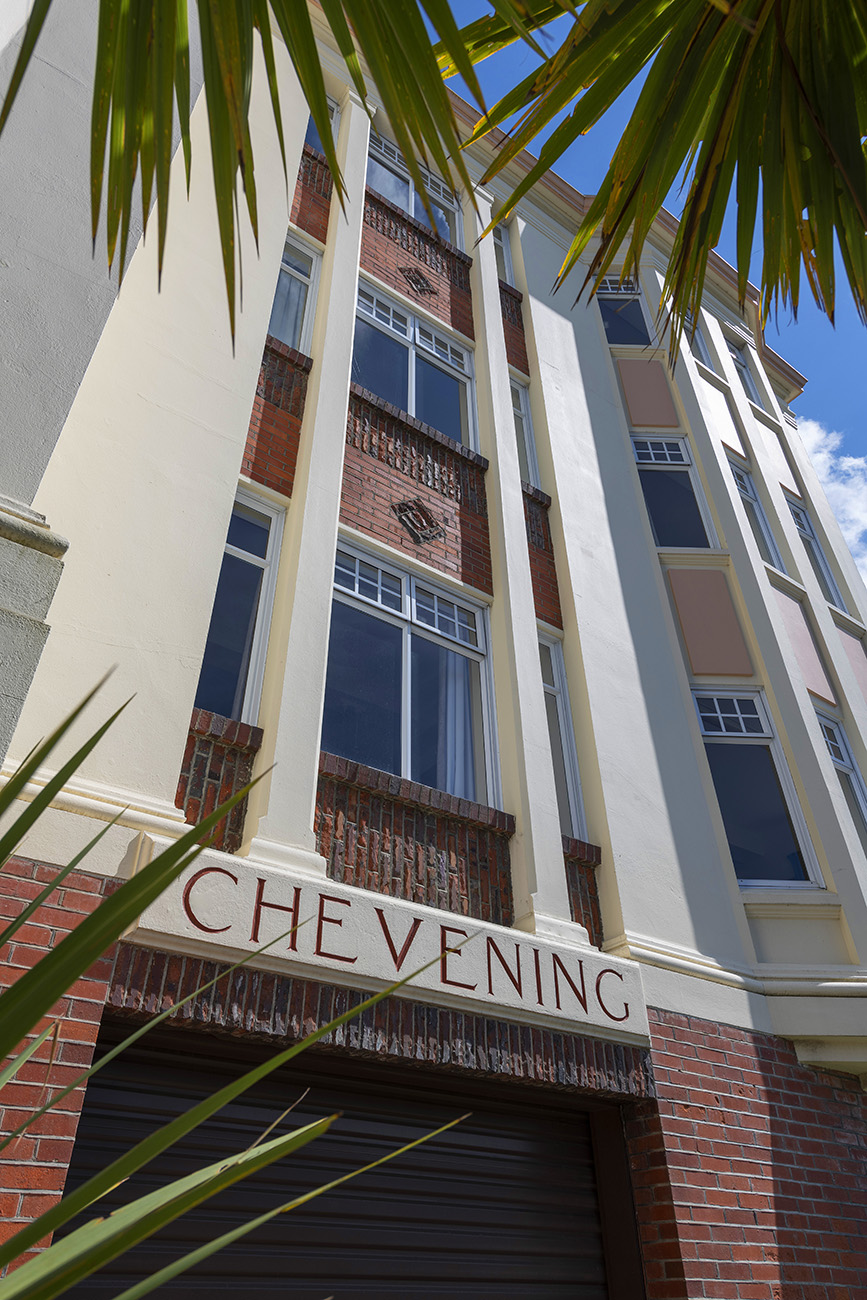 Staircase & landing level 4, with original floor tiles | V Morrell | 28/11/2011 | NZ Historic Places Trust
List Entry Status
Historic Place Category 2
Access
Private/No Public Access
Date Entered
3rd March 2012
Date of Effect
3rd March 2012
City/District Council
Wellington City
Extent of List Entry
Extent includes the land described as Lot 2 DP 6660 (RT WN5C/1409), Wellington Land District and the building known as Chevening Flats thereon, and its fittings and fixtures. (Refer to map in Appendix 1 of the registration report for further information).
Legal description
Lot 2 DP 6660 (RT WN5C/1409), Wellington Land District
Stay up to date with Heritage this month