The 'Taj Mahal' building was built as a public toilet in 1928–29 (opening in July 1929) and got its popular name from the distinctive domes at either end. Designed by the City Engineer's office and built by Fletcher Construction, it is situated in the median strip between two busy roads, Kent and Cambridge Terraces at their northern end, and is also visible from Courtenay Place and Majoribanks Street. In the William Mein Smith survey of Wellington the land the 'Taj Mahal' is on was originally set aside for a canal running from the waterfront to the Basin Lake at the end of Kent Terrace, intended for barges to deliver goods to Newtown warehouses. However the 1855 earthquake raised the land the Basin Reserve is now on and a canal was no longer needed. The Wellington City Council Heritage Inventory notes the women's rest room was under the dome at the north end with wash areas and toilets in the body of the building, while the men's toilets occupied the south end. The building was used as public toilets until it was closed in January 1964. It was reopened a few months later following much protest, but it lasted only another two years before finally closing as toilets in 1966, when it was offered for lease for other uses. Downstage Theatre, located across the road, used it for storage and workshops from 1971 until 1977. Then it was used for a time as an art gallery and restaurant. At some time in its post-toilet life (prior to 1997) a window has been added to the south end. Author David McGill mentions some colourful incidents in its history – a 'pray-in' student capping stunt in 1953 for example. There was also a capping stunt in 1967 as a photograph in the Alexander Turnbull Library collection shows. When it closed in 1966, there were many suggestions for alternative uses for the building – converting it into a 'begonia house, a hanging gardens, an SPCA centre, wine shop, restaurant, gramophone museum, love shop, amusement parlour, historical display and art gallery, Girl Guide headquarters, you name it.' A Nevile Lodge cartoon of a decade later was drawn at the time Downstage had vacated and the council was seeking new tenants for the building. It has housed the Taj Mahal restaurant, The Dome Bar [a queer bar], Traffic Wine Bar, Scorpio's Welsh Restaurant and is currently occupied by the Welsh Dragon Bar. [It was a popular beat (a sex on site venue) for men interested in men when it was open as a public toilet. When the building was undergoing renovation for the Dome, graffitti was found under numerous layers of paint that pointed to its historical use as a beat]. The 'Taj Mahal' has become a Wellington city landmark, not only for its distinctive design of rounded ends and roof domes but also for the many uses that it has seen (or have been proposed) since it closed as public toilets in 1966. It has social, historical, aesthetic and architectural significance.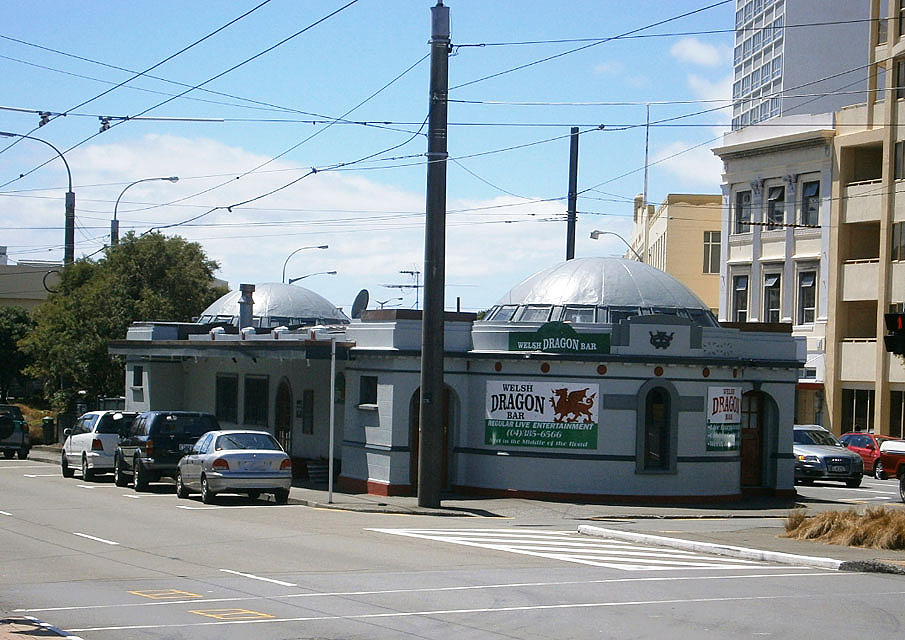 'Taj Mahal' Public Toilets (Former), Wellington. Image courtesy of rnfoster.com | R.N. Foster | 09/02/2013 | R.N. Foster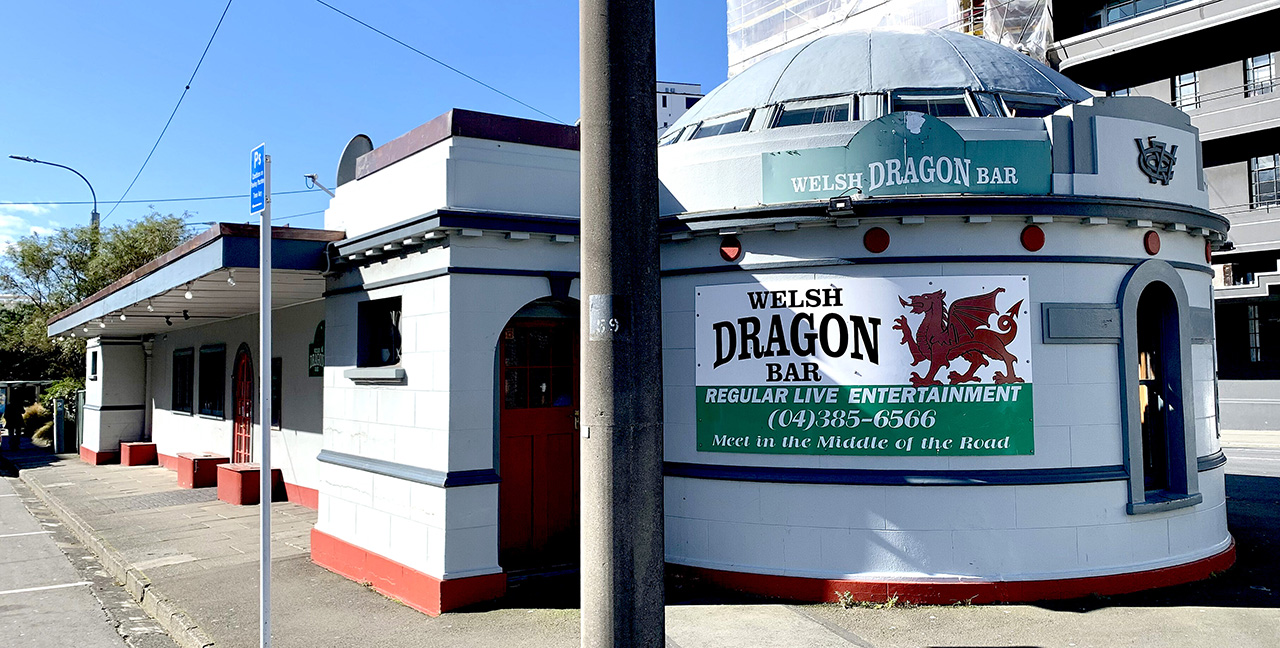 'Taj Mahal' Public Toilets (Former), Wellington. North end. CC Licence 2.0 Image courtesy of commons.wikimedia.org | Ewan Munro | 08/07/2012 | Ewan Munro - Wikimedia Commons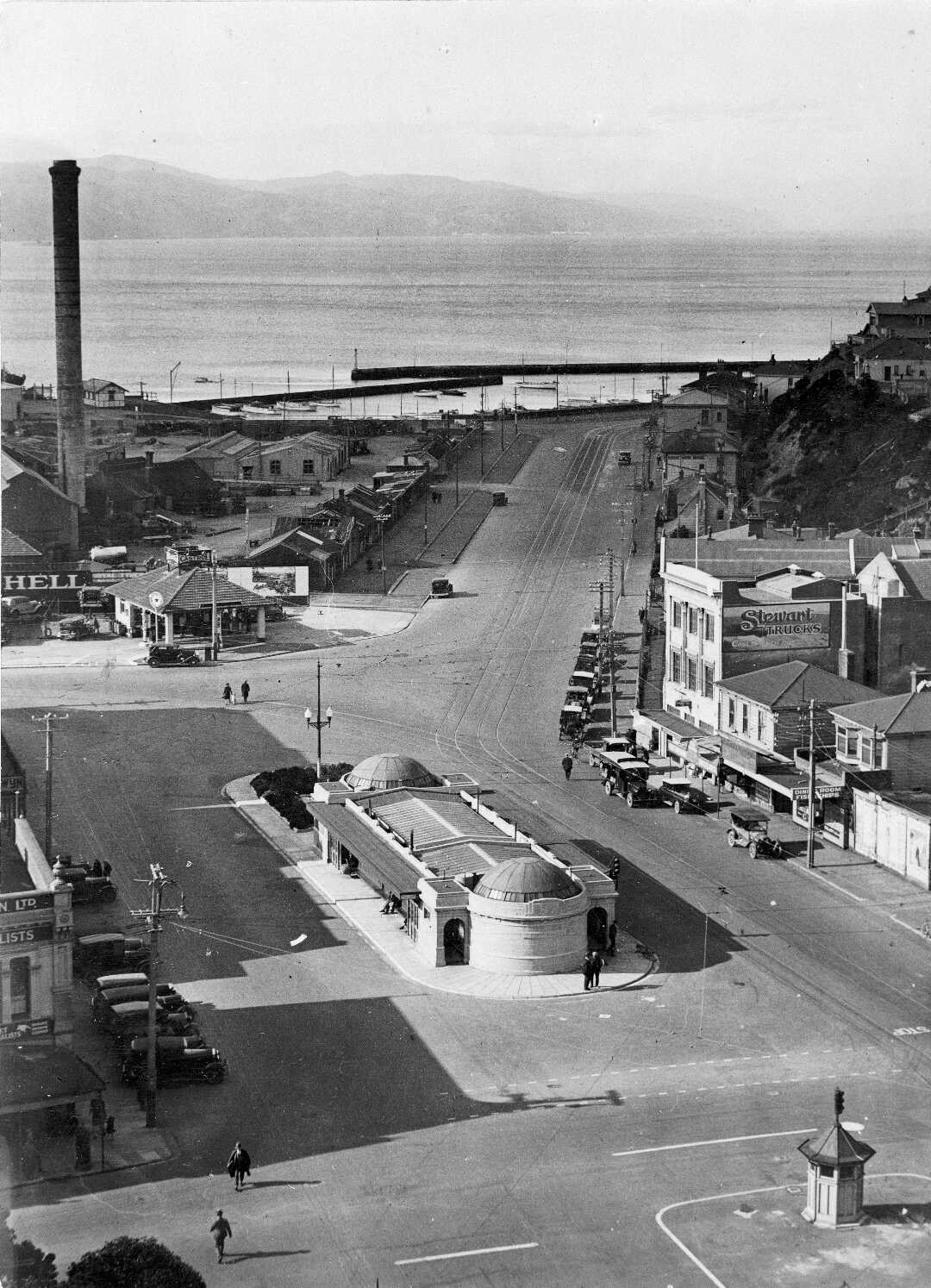 'Taj Mahal' Public Toilets (Former). Kent Terrace and Oriental Parade, Wellington, 1920s. Ref: 1/2-116556-F. http://beta.natlib.govt.nz/records/22838426. Permission of the Alexander Turnbull Library, Wellington, New Zealand, must be obtained before any re-use of this image | Alexander Turnbull Library, Wellington
List Entry Status
Historic Place Category 2
Access
Private/No Public Access
Date Entered
11th November 1982
Date of Effect
11th November 1982
City/District Council
Wellington City
Extent of List Entry
Extent includes part of the land described as Legal Road as coloured red on SO 18457 (NZ Gazette 1927, p. 3270; D WN67/266), Wellington Land District, and the building known as 'Taj Mahal' Public Toilets (Former) thereon.
Legal description
Legal Road as coloured red on SO 18457 (NZ Gazette 1927, p. 3270; D WN67/266), Wellington Land District
Location Description
Located on the road median between Cambridge and Kent Terraces (north end), Wellington
Stay up to date with Heritage this month