Wellington's Thistle Inn was built in 1866 and has outstanding historical significance as one of the country's oldest hotels still in business and architectural significance as a now-rare local example of a timber commercial period of the period. A site of social activity for over 150 years, the building possesses social significance as a long-standing watering hole and meeting place. The Ngāi Tara people were early inhabitants of Wellington and the harbour came to be known as Te Whanganui-a-Tara, the great harbour of Tara, after the rangatira of the same name. In the seventeenth century Ngāti Ira of Hawke's Bay joined Ngāi Tara and extensive intermarriage occurred between the two tribes. Other iwi who made a home in the region included Ngāti Kahungunu, Rangitāne, Ngāi Tahu and Ngāti Māmoe. Te Ātiawa, Ngāti Tama and Ngāti Mutunga migrated south from Taranaki in the 1820s and early 1830s during a period of great upheaval associated with the introduction of Pākehā muskets into te ao Māori. In 1824 Ngāti Mutunga built the five-acre Te Aro Pā in what is now central Wellington, and the pā gave its name to the wider area. Te Aro Flat, as it became known, was included in the purchase of land at Te Whanganui-a-Tara by British colonising firm the New Zealand Company in 1839. The land around and inland from the harbour was divided into town acres. The first Thistle Inn was opened on town acre 515 in October 1840. This burned down in 1866 and a new building was erected the same year. This is the wooden two-storey Thistle Inn that stands today, albeit with some alterations and additions. From the beginning, the Thistle Inn filled an important social function as one of the first centres of social life in Wellington. As a working man's club, it had a tradition of hospitality. Its site on the shoreline linked the two main flats of Te Aro and Thorndon, and its slight eminence at the foot of Mulgrave Street meant that until the harbour reclamation in 1876 it was only a few yards from the sea. It was popular with sailors, the nautical atmosphere was provided by the marked tilt of the floor of the main bar, against which sailors could brace themselves as though on a deck sharply lifting in Cook Strait. Well-known writer Katherine Mansfield (1888-1923) set her 1907 short story 'Leves Amores' there. The story features what is strongly suggested as a romantic and sexual relationship between two women who return to the Thistle after a night at the opera, the narrator opening the story with the line 'I can never forget the Thistle Hotel. I can never forget that strange winter night.' Clad in rusticated weatherboards, the Thistle Inn is a now rare example of a mid-nineteenth century timber commercial building in central Wellington. In 1896-97 a wing designed by prominent local architect Thomas Turnbull was added to the west side of the building. Subsequent modifications were stripped back during a major renovation in 2004 and the building closely resembles its 1866 form. It is one of the oldest hotels still operating in Aotearoa New Zealand.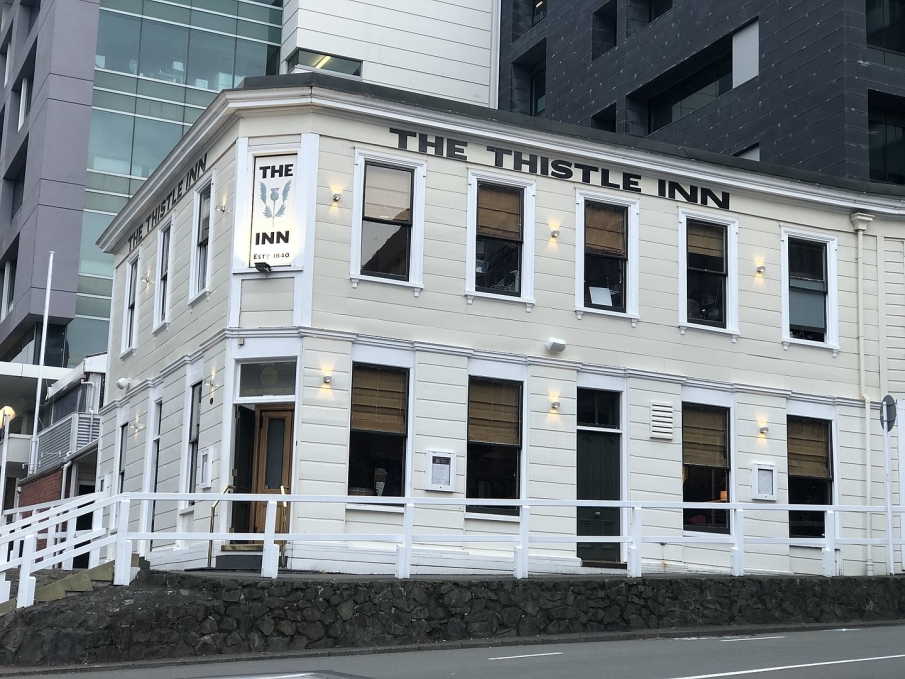 Thistle Inn, Wellington. CC BY-SA 4.0 Image courtesy of commons.wikimedia.org | Canley | 16/11/2019 | Canley - Wikimedia Commons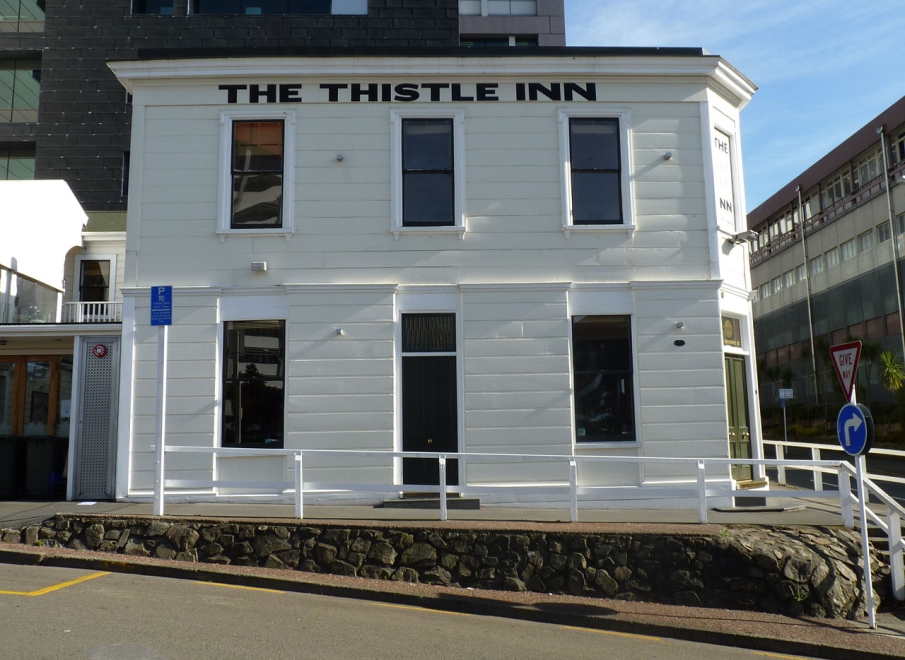 Thistle Inn, Wellington. CC BY-SA 4.0 Image courtesy of commons.wikimedia.org | Michal Klajban | 01/01/2015 | Michal Klajban - Wikimedia Commons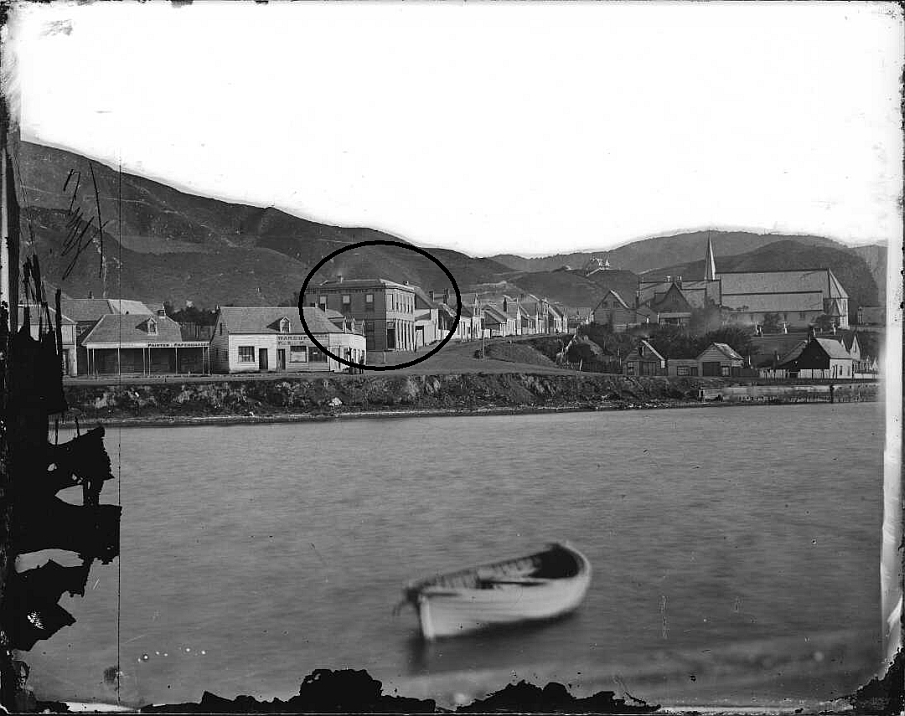 Thistle Inn, Wellington. Intersection of Thorndon Quay & Mulgrave St, Thorndon, Wellington, in 1866, with the harbour and a row boat in the foreground. 1812-1901: Photographs of Wellingon and district Ref: 10x8-2087-G | William Henry Whitmore Davis | Alexander Turnbull Library, Wellington, New Zealand
List Entry Status
Historic Place Category 1
Access
Private/No Public Access
Date Entered
7th July 1988
Date of Effect
7th July 1988
City/District Council
Wellington City
Extent of List Entry
Extent includes the land described as Pt Sec 515 Town of Wellington (RT WN50A/503), Wellington Land District and the building known as Thistle Inn thereon.
Legal description
Pt Sec 515 Town of Wellington (RT WN50A/503), Wellington Land District
Stay up to date with Heritage this month