Standing prominently on one of Dunedin's most prestigious streets, Renfrew House proudly proclaims its nineteenth century pedigree. Historically significant in its association with the successful businessman Andrew McFarlane; aesthetically significant in its symmetrical bluestone design; architecturally significant in its likely association with Nathaniel Young Wales, Renfrew House is a testament to old Dunedin wealth. In 1864 Andrew and John McFarlane established the 'the well-known grocery firm of A. and J. McFarlane' in Maclaggan Street. The business prospered and in 1890 the newspaper wrote that 'at present they [A. and J. McFarlane] conduct a business which is certainly the largest in the City.' The McFarlane brothers also purchased land on the Taieri Plain and took up dairying. They raised Ayrshire cattle, naming their farm 'Ayrshire Park'. Andrew McFarlane became involved in agricultural organisations and was one of the founders of the Taieri and Peninsula Milk Supply Company. By 1889 he was Chairman of the Otago Agricultural and Pastoral Association. He was also a Director of the Standard Fire and Marine Insurance Company, helped launch the Roslyn Tramway Company, was on the Committee of the Chamber of Commerce and was a Roslyn Borough Councillor. In August 1868 Andrew married Jane Wilson (1847-1920) of Dunedin. It is likely the couple began married life in a bluestone cottage already on the site McFarlane had purchased in 1863: Sections 7 and 8, Block IV, Upper Kaikorai. According to local word of mouth, McFarlane's original cottage was single storey and bluestone with a central front door and double hung windows on each side. A second storey was later added, perhaps around 1881. The exterior walls were built of double stone – over 70 cm thick. The interior walls were built of double brick. With its wrought iron lace work, it is 'one of the finest examples of classic Victorian architecture in Dunedin'. Mason and Wales was the architect of choice for A and J McFarlane's commercial enterprises. It is entirely probable, that McFarlane's neighbour, Nathaniel Young Armstrong Wales, was involved with the design and construction of the addition and perhaps the original structure. Certainly the families were on familiar terms. In 1894 McFarlane's daughter Jane married Nathaniel Wales' son, Robert. By the 1890s the family referred to their home as 'Renfrew House'. On the occasions of McFarlane family weddings, Renfrew House was mentioned by name as the wedding and reception venue. In 1920 Andrew retired from the firm and the business was wound up. He died at his daughter's home, also in Belgrave Crescent, in 1924. The house was renovated during the 1950s and 1960s and by the 1970s was under threat of demolition. Instead, the house was sold and the current owners have recently invested considerable time and effort returning the garden and exterior to its gracious best.
Renfrew House, Dunedin | Susan Irvine | 21/11/2016 | Heritage New Zealand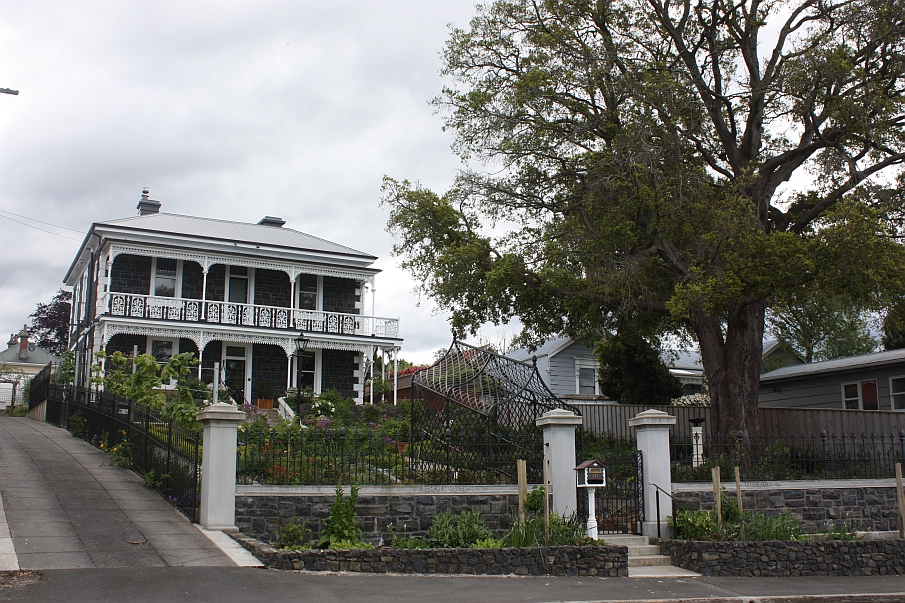 Renfrew House, Dunedin | Susan Irvine | 21/11/2016 | Heritage New Zealand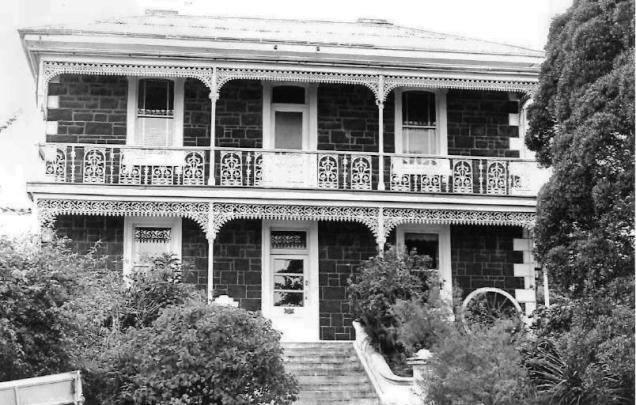 Renfrew House, Dunedin. Image included in Field Record Form Collection | Heritage New Zealand
List Entry Status
Historic Place Category 2
Access
Private/No Public Access
Date Entered
7th July 1982
Date of Effect
7th July 1982
City/District Council
Dunedin City
Extent of List Entry
Extent includes the land described as Lot 1 DP 22261 and Lot 1 DP 17306 (RT OT14C/31), Otago Land District and the building known as Renfrew House thereon.
Legal description
Lot 1 DP 22261 and Lot 1 DP 17306 (RT OT14C/31), Otago Land District
Stay up to date with Heritage this month