This handsome Victorian building, home first to drapers Hood and Shennan and later, with a new façade, to the Australian Mutual Provident Society (AMP), is a landmark in Oamaru. John Hood (1835-1907) and John Shennan (c.1843-1887) established the first drapers shop in Oamaru in 1863 at the foot of Wansbeck Street. Their business was a success and in 1871 they acquired a prominent site on the corner of Itchen and Tees Streets and built new premises, a 'fine showy structure' constructed from stone in Italianate style 'plain in character, but exhibiting in a marked degree fitness for the business for which it is intended.' The main entrance was on Itchen Street, with deep windows either side of the door. The drapery department was on Tees Street. A showroom was located upstairs, with a furnishing and clothing department, tailors' workshop and offices on the ground floor. The contractor was Thomas King and the building was erected under Thomas Forrester's superintendence. A photograph taken prior to 1874 shows a plainly detailed building of two storeys, with the main entrance on Itchen Street, and building work in progress, extending the Itchen Street façade; ornamentation (balustrades and cartouches on the parapet) evident in later photographs has yet to be added, and there is an empty section on Tees Street. The building was extended in late 1874, with tenders advertised in August. In January 1875 the North Otago Times reported that 'a new two-storey building' designed by Forrester was 'in course of erection' by Messrs Barclay and Co. The frontage was 32 ft [10m] to Tees street, with a depth of 56 ft [17m]. 'The front is very handsome, and the building, with those previously erected, and to which it is an addition forms a very handsome block.' The whole building was described as 66 ft by 50 ft [20 by 15m] in a September 1875 description. A photograph dated 1876 shows a new building on the previously empty section on Tees Street, matching the style of the first building. Hood and Shennan's partnership ended in September 1882. They sold the property to the Australian Mutual Provident ('AMP') Society. John Hood carried on business for a time on his own account. The façade was remodelled by Forrester and Lemon in 1885 for the Australian Mutual Provident Society's offices. The design included what architectural historian Conal McCarthy describes as 'the magnificent marble statue group' 'Amicus' which was placed on the corner parapet. Verandahs were added to the shop fronts on Itchen Street and Tees Street. AMP owned the building until 1958 when it was bought by stock and station agents Stringer and Co. Ltd. The North Otago Club took over the building in 1975. In 2010 the building was restored, including the reinstatement and restoration of the verandahs to Itchen and Tees Streets. The restoration was awarded a New Zealand Institute of Architects Local Architecture Award (Southern) Citation and a second citation for the paint colour scheme. In 2013 the AMP Society Building (Former) remains a landmark in Oamaru's Harbour/Tyne Street Historic Area (Register No. 7064).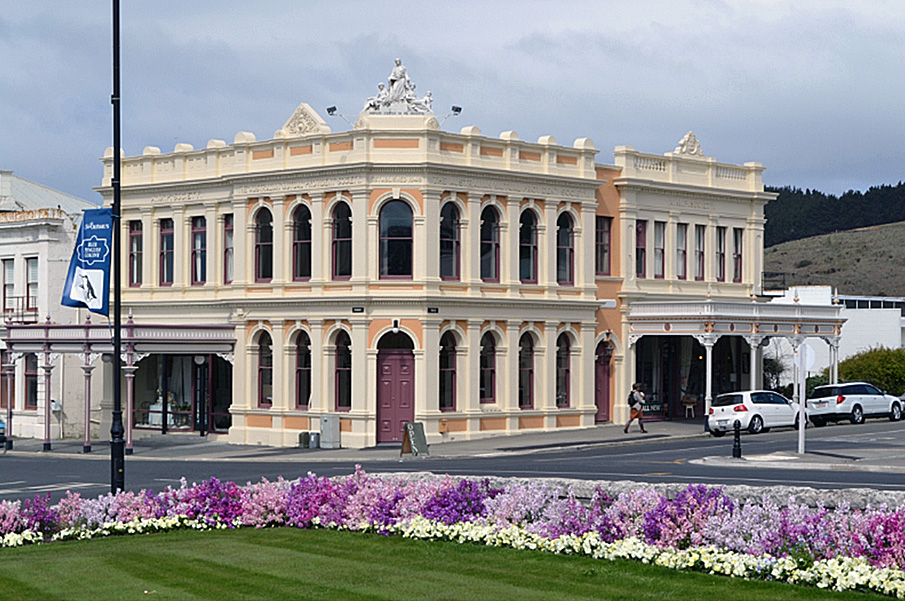 AMP Society Building (Former) | Ian Butcher | 02/11/2011 | Ian Butcher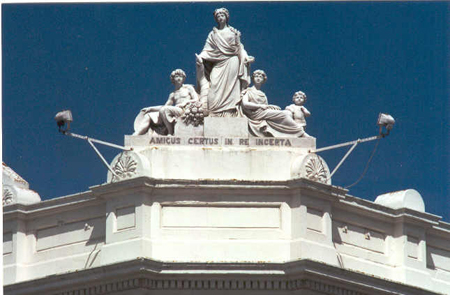 AMP Society Building Former | Melanie Lovell-Smith | 01/11/2001 | NZ Historic Places Trust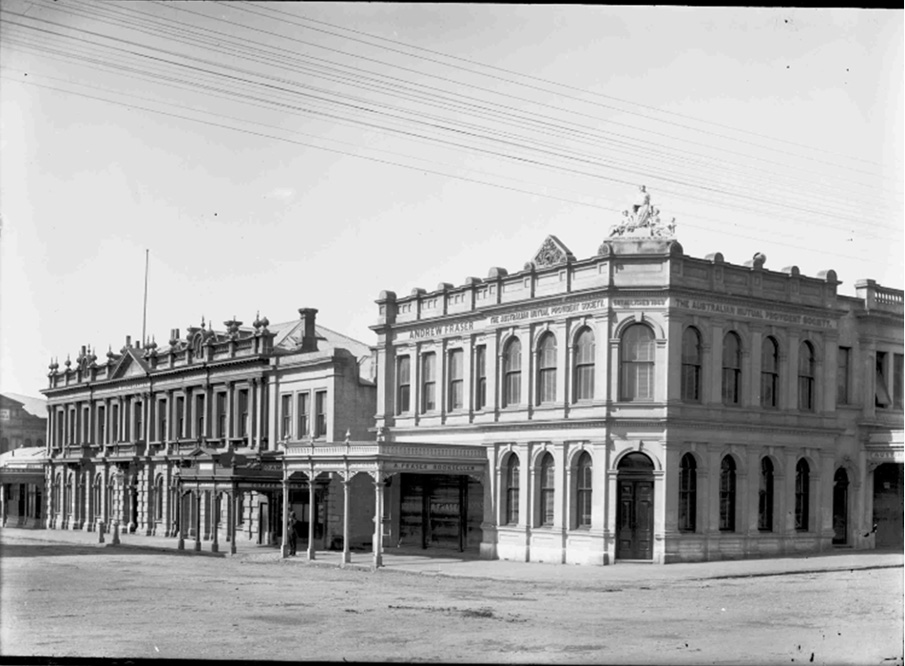 AMP Society Building (Former) looking down Itchen Street, (no date, Item 1852, North Otago Museum Collection) | Unknown | North Otago Museum
List Entry Status
Historic Place Category 1
Access
Private/No Public Access
Date Entered
7th July 1987
Date of Effect
7th July 1987
City/District Council
Waitaki District
Extent of List Entry
Extent includes the land described as Pt Sec 12 Blk III Town of Oamaru (RT OT75/298), Otago Land District, and the building known as AMP Society Building (Former) thereon.
Legal description
Pt Sec 12 Blk III Town of Oamaru (RT OT75/298), Otago Land District
Stay up to date with Heritage this month