The Seddon Statue was unveiled in Parliament Grounds, Wellington, on 26 June 1915 by the Governor, Lord Liverpool, before a crowd of approximately 1500 people. Commemorating Richard John Seddon (1845-1906), a long serving politician and leader who died in office, the statue is of historical, aesthetic and social significance. The sculpture is an important example of Sir Thomas Brock's work in New Zealand and is a monument to the country's longest serving leader. The Seddon Statue is the most prominently positioned of the two statues of former leaders situated in Parliament Grounds and is one of only four official statues of prime ministers in Wellington. It is a significant element within Parliament Grounds, which is an historical and cultural area of outstanding importance. Seddon was born in 1845 in Lancashire, England, and immigrated to Australia in 1863. He worked at railway workshops and prospected on goldfields before moving to New Zealand in 1866. After serving in West Coast local politics, Seddon entered Parliament in 1879 and became premier in 1893, following the death of John Ballance. As leader of the Liberals, Seddon was associated with a number of important reforms and the granting of the vote to women. Seddon was an imperialist, he held numerous large portfolios while leading the country, and was the first New Zealand political leader to adopt a populist style. In 1906, when returning to New Zealand from Australia, he died of a heart attack. Profound public grief led to the building of a number of monuments in his memory, including two representations of Seddon: a statue in Hokitika, unveiled in 1910, and the Wellington statue, erected nine years after Seddon's death, priority having been given to Seddon's burial tomb and the landscaping of Parliament Grounds after a fire at Parliament House in 1907. The bronze statue in Wellington was paid for jointly by the government and public subscription. It was the work of eminent English sculptor Sir Thomas Brock, who was awarded the commission for the statue by Prime Minister Joseph Ward shortly after the unveiling of Brock's acclaimed Victoria Memorial in London. The sculpture was based on photographs of Seddon speaking at a political meeting at Papawai in 1905, and advice from Seddon's widow. The statue's pedestal of Aberdeen granite is decorated with bronze shields featuring Seddon's initials and a bronze frieze of shells, waves and dolphins, symbolising the Dominion. The statue captures Seddon mid-speech wearing his trademark frockcoat and it has been described by historian Michael King as bearing a 'dramatically good likeness' to Seddon, capturing his size and oratory presence. Since its unveiling, the statue has been maintained but not significantly altered, although in 2014 the statue was found to be earthquake-prone, rated at 30 percent of New Building Standard. The statue stands in a prominent position in front of the main entrance to Parliament House, and has become a focal point for demonstrations and a backdrop for television political reporters.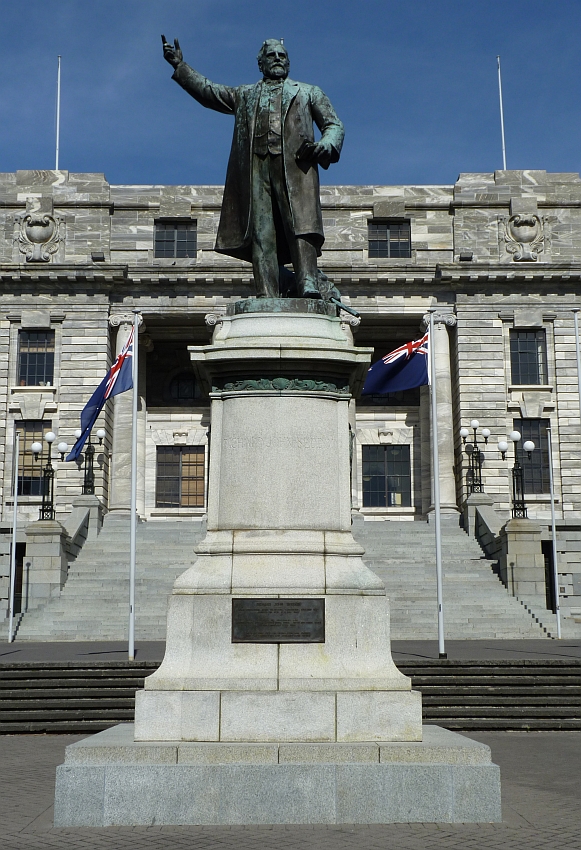 Seddon Statue, Parliament Grounds, Wellington. CC BY-SA 4.0 Image courtesy of commons.wikimedia.org | Michal Klajban | 01/01/2015 | Michal Klajban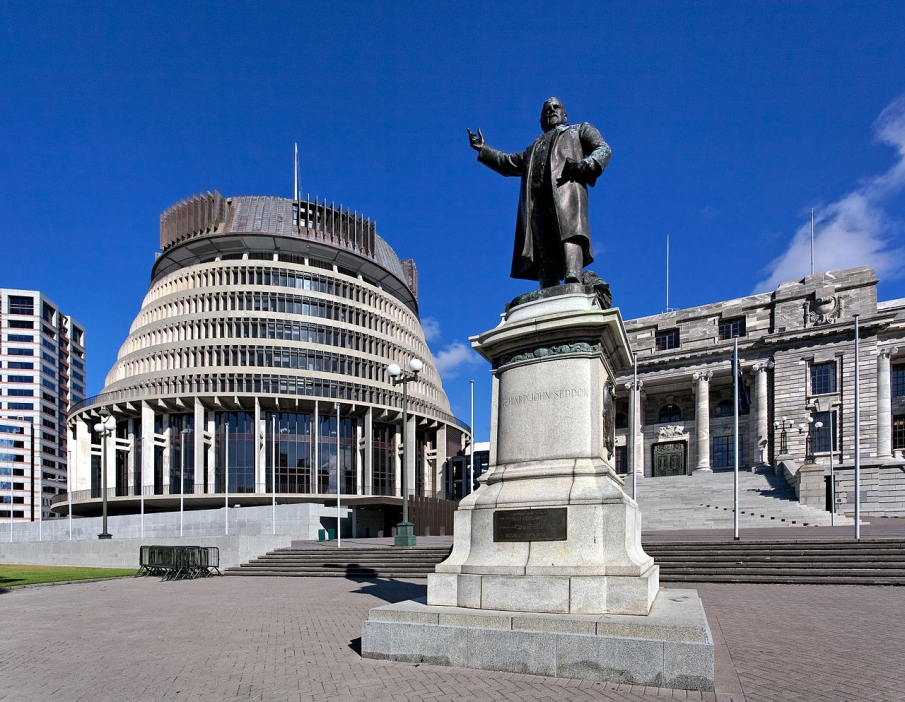 Seddon Statue, Parliament Grounds, Wellington. CC BY-SA 2.0 Image courtesy of commons.wikimedia.org | russellstreet | 10/04/2010 | russellstreet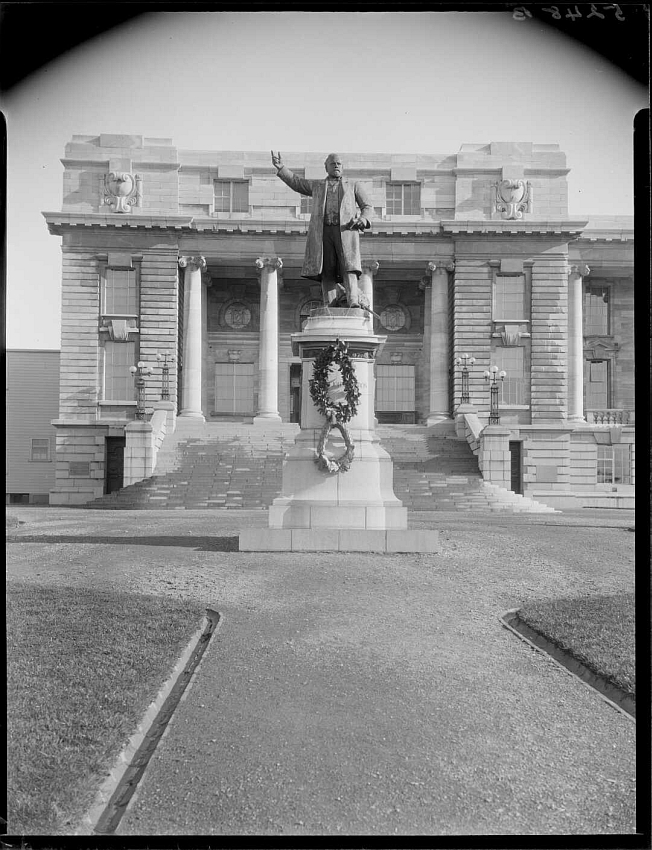 Seddon Statue, Parliament Grounds, Wellington 1927 Ref: 1/1-032508-F | Crown Studios | Alexander Turnbull Library, Wellington
List Entry Status
Historic Place Category 1
Date Entered
11th November 1981
Date of Effect
11th November 1981
City/District Council
Wellington City
Extent of List Entry
Extent includes part of the land described as Sec 1 SO 38114 (RT 10240), Wellington Land District and the structure known as the Seddon Statue thereon, including a curtilage of 5 metres from the base of the statue. (Refer to the extent map tabled at the Heritage List/ Rārangi Kōrero Committee meeting on 12 November 2015).
Legal description
Sec 1 SO 38114 (RT 10240), Wellington Land District
Stay up to date with Heritage this month