Turnbull House on Bowen Street, Wellington, is a three-storey brick building designed by William Turnbull as a private home for nationally significant collector and bibliophile Alexander Horsburgh Turnbull (1868-1918). It has historical, cultural and architectural significance as a rare example of a purpose-built home and library, with a mix of Scottish Baronial, Queen Anne and Medieval architecture. After Alexander Turnbull's death in 1918, the building housed the Alexander Turnbull Library for 55 years and is therefore associated with a person of importance in New Zealand history as well as the Alexander Turnbull Library, a research library of international standing. Alexander Turnbull was an important collector, principally of books, in the late nineteenth and early twentieth centuries. Turnbull's collecting, which had begun at a young age, became much more focused around 1892 and his collection came to include works by John Milton, Maori and Pacific artefacts and clothing, coins, and volumes relating to New Zealand, ocean voyages, naval history, Captain Cook, and English drama. Turnbull was also interested in golf and yachting, and was a member of a number of societies and local clubs. In 1913 he donated his collection of artefacts to the Dominion Museum and devoted his time to books for the last two years of his life. Turnbull commissioned prominent architectural firm Thomas Turnbull and Son (architect William Turnbull) to design a house for himself and his collection, which in 1918 was regarded as the largest private library in the country and was valued at £51,800. Turnbull House was built by builders Campbell and Burke at a cost of £6,000 on part of a Bowen Street section owned by Turnbull's family, the family home and most of the grounds having been sold in 1914. The house's construction was delayed until late 1915 by the outbreak of World War I and Turnbull was only able to move into the house in 1916. The house was designed to store at least 60,000 volumes in its three-roomed library, and living quarters were in the southern end of the building. Turnbull was not to live for long in the house. He died in 1918 and his collection was bequeathed to the government. His house, which was purchased by government, was opened to the public in 1920 as the Turnbull Library. The Library was to stay in the building until 1973, after which time the building housed various tenants including community groups, and was used for functions. A life-long bachelor, Turnbull's private life and sexuality has been speculated about by biographers and historians. Eric McCormick and Chris Brickell have taken a circumspect approach, considering that he may have been what today would be understood as gay, but noting a lack of definitive evidence, whereas Stephen Eldred-Grigg has described him as a 'wealthy homosexual merchant, bibliophile, philanthropist and advocate of fin de siecle aestheticism'. Turnbull House was threatened with demolition in the 1970s when the Ministry of Works planned an access ramp to link with the motorway. These plans were withdrawn following strong community concern. The building was strengthened in 1955 by James H Milne for the Ministry of Works and then again in 1995. In the mid-1950s, the gables and upper windows were removed because of perceived earthquake risk. They were rebuilt in 1995. Deemed to be earthquake prone by the Wellington City Council in 2009, the building was closed in 2012 pending further strengthening work. Nestled amongst the high rise buildings of Lambton Quay and The Terrace, Turnbull House is an important part of the Government Centre Historic Area, and the country's only example of a purpose built residence and library.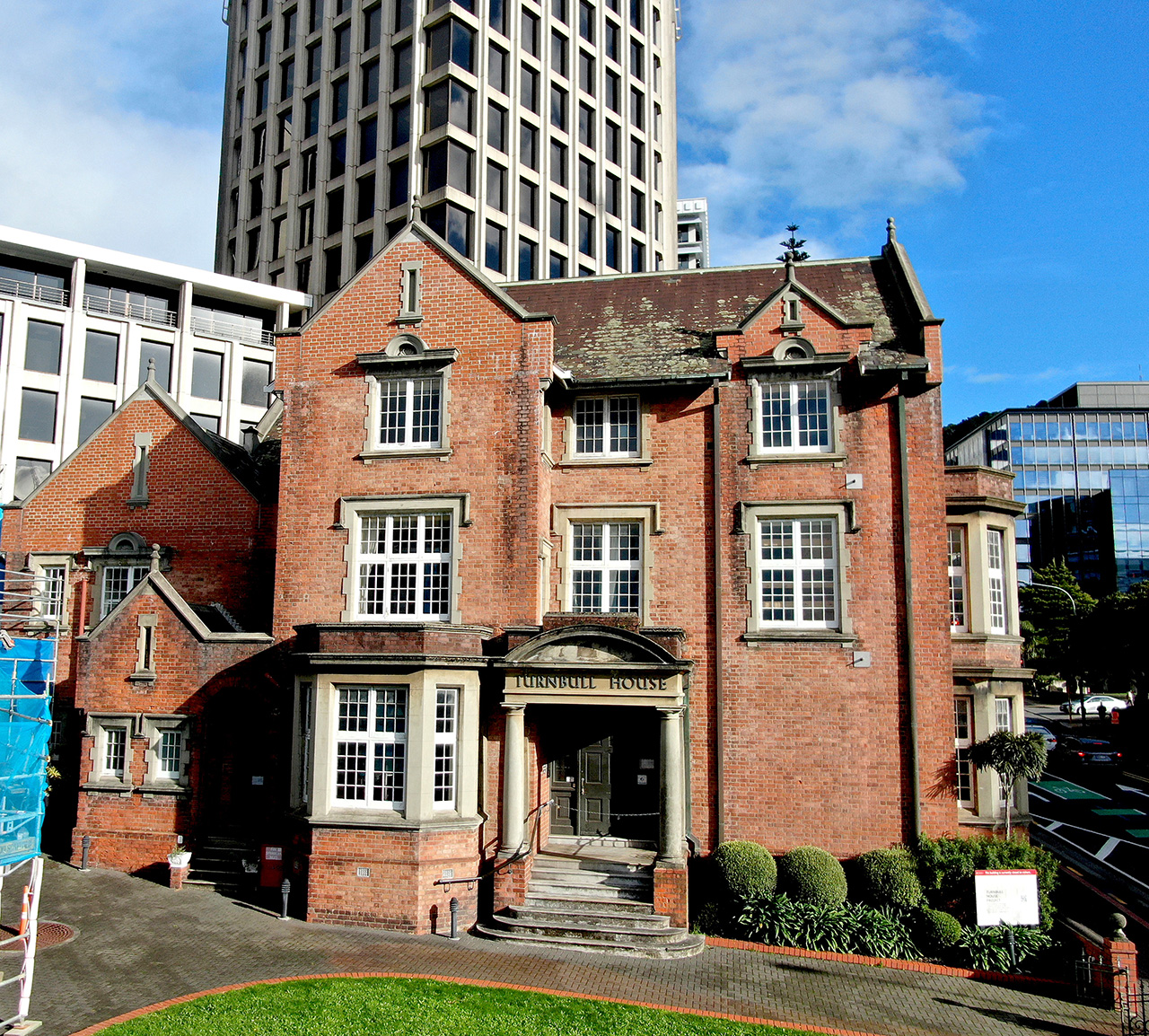 Turnbull House, Wellington | Stephanie So | 15/05/2023 | Heritage New Zealand Pouhere Taonga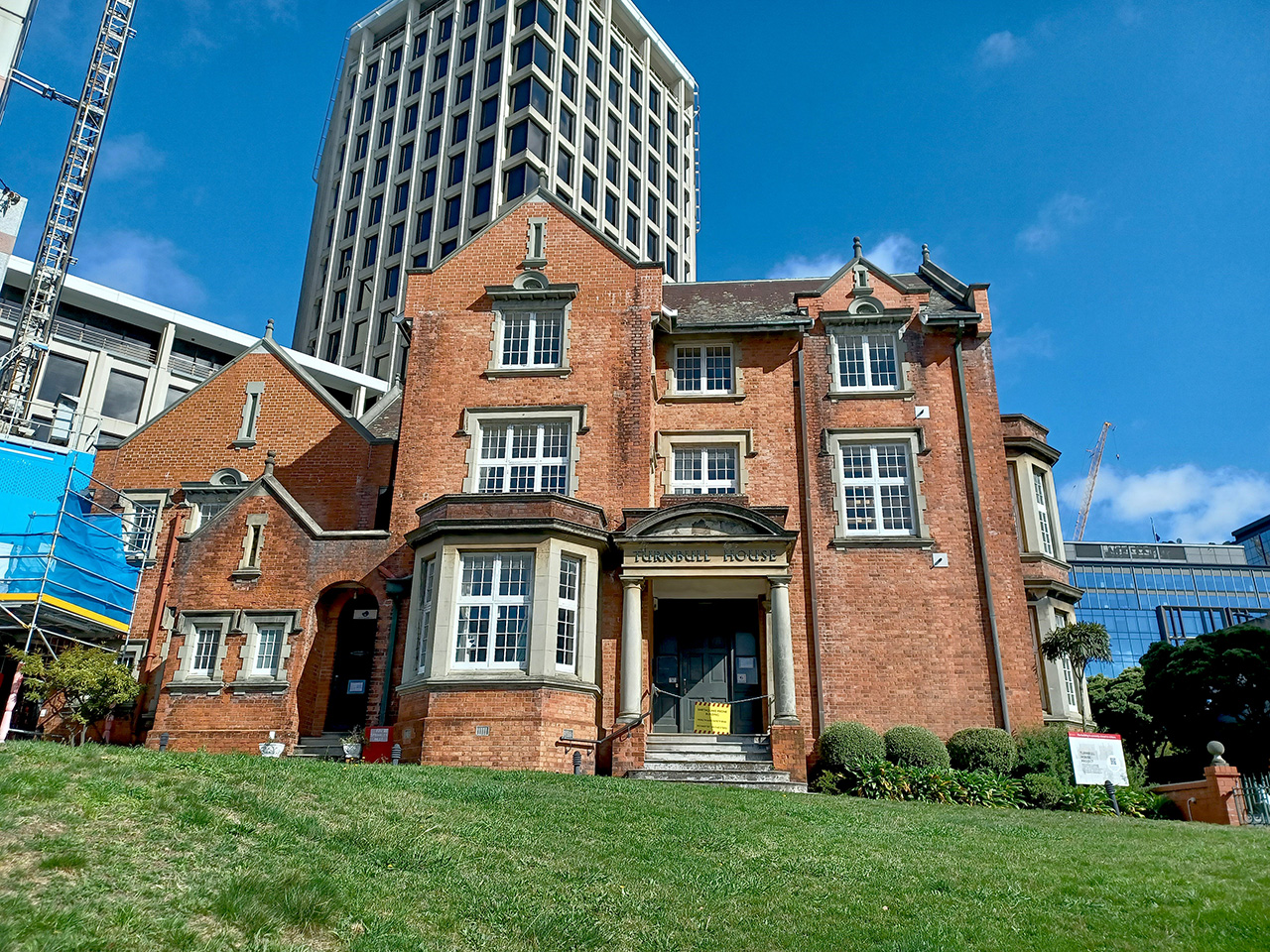 Turnbull House, Wellington | Stephanie So | 15/05/2023 | Heritage New Zealand Pouhere Taonga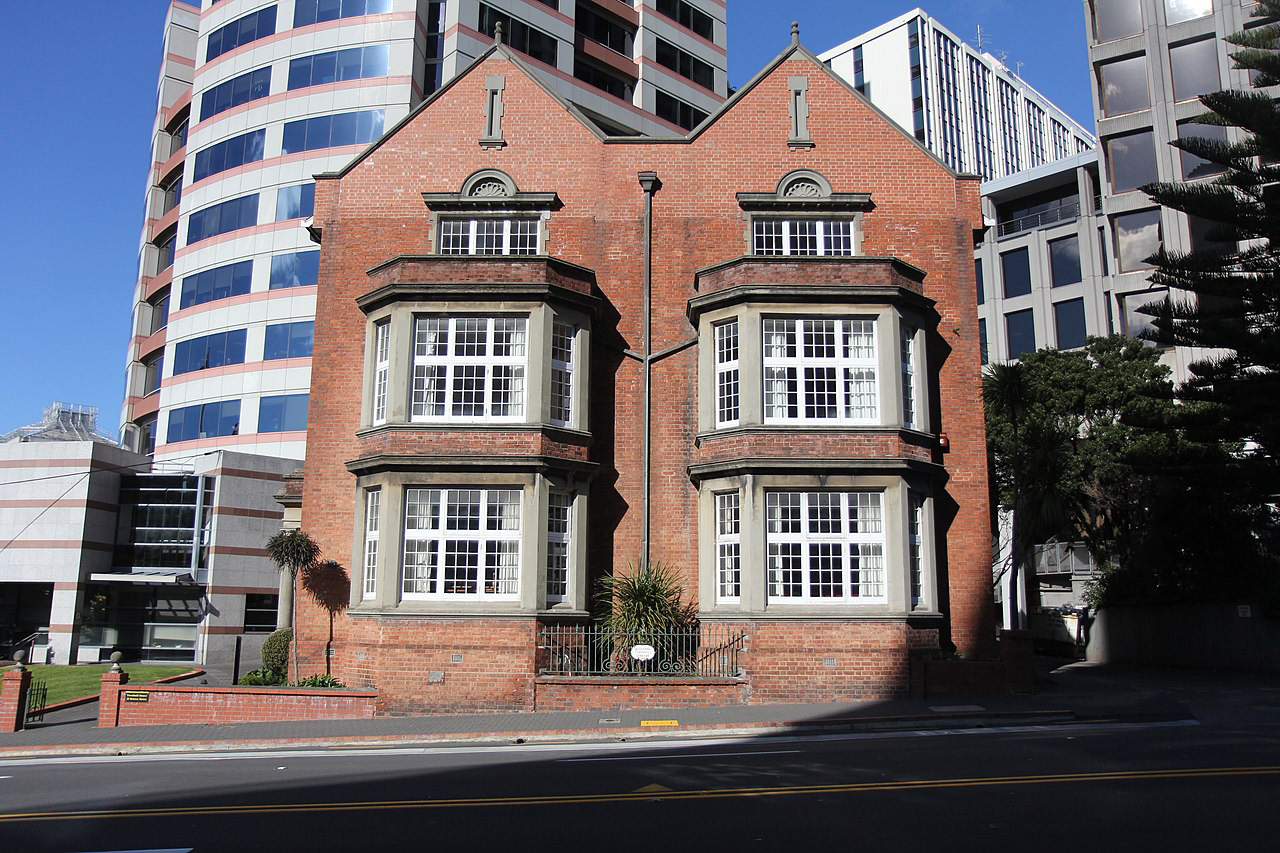 Turnbull House, Wellington. CC BY-SA 4.0. Image courtesy of commons.wikimedia.org | Jonathanischoice | 31/08/2019 | Jonathanischoice - Wikimedia Commons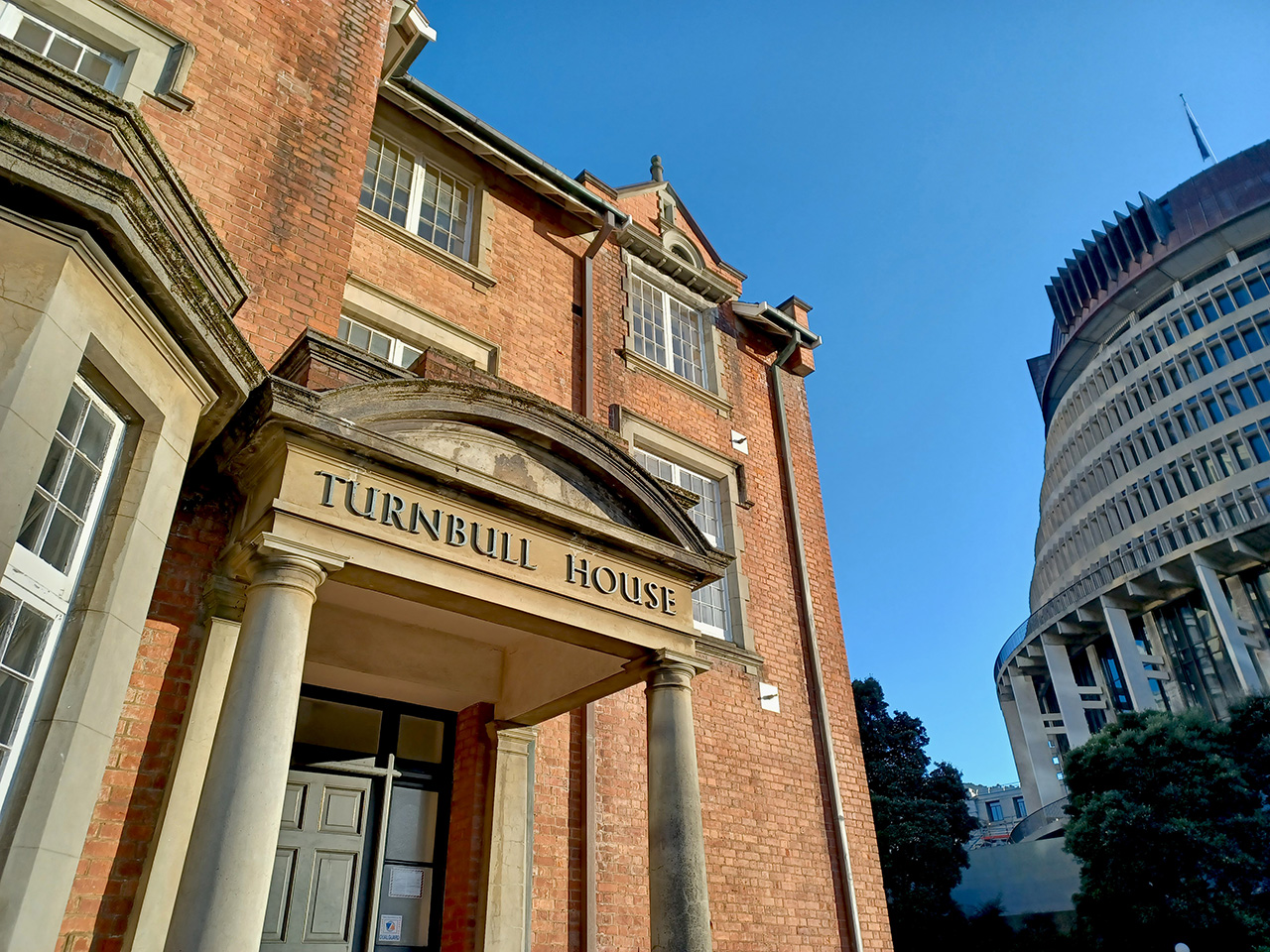 Turnbull House, Wellington | Stephanie So | 06/07/2023 | Heritage New Zealand Pouhere Taonga
List Entry Status
Historic Place Category 1
Access
Private/No Public Access
Date Entered
11th November 1982
Date of Effect
11th November 1982
City/District Council
Wellington City
Extent of List Entry
Extent includes the land described as Lot 3 DP 2991 (NZ Gazette 1992, pp. 3822-3823; RT WN237/291), Lot 3 DP 10325 (NZ Gazette 1992, pp. 3822-3823; RT WN436/191), and Lot 1 AP 2948 (NZ Gazette 1992, pp. 3822-3823), Wellington Land District, and the building known as Turnbull House thereon.
Legal description
Lot 3 DP 2991 (NZ Gazette 1992, pp. 3822-3823; RT WN237/291), Lot 3 DP 10325 (NZ Gazette 1992, pp. 3822-3823; RT WN436/191), Lot 1 AP 2948 (NZ Gazette 1992, pp. 3822-3823), Wellington Land District
Stay up to date with Heritage this month