This statue of 'King Dick', Richard John Seddon (1845 - 1906), was unveiled outside the Government Buildings, Hokitika, in 1910. Seddon, the Premier of New Zealand from 1893, had died four years earlier from a heart attack on his way back from Australia. Two years later the Hokitika Seddon Memorial Committee asked the local council for permission to erect a statue in his honour. With permission duly given and funds raised through public subscription, W. Parkinson & Co, Monumental Masons of Auckland, were commissioned to carve a suitable statue. Seddon was born in England and immigrated to Australia in 1863. After a period in Victoria Seddon moved to Hokitika in 1866. He appears to have prospered from mining on the West Coast and returned to Melbourne to marry Louisa Jane Spotswood in 1869. They returned to the West Coast, where Seddon expanded his shop into a hotel, and became involved with local politics. He was first elected to the Westland Provincial Council in 1874 and in 1877 became the mayor of Kumara. Although unsuccessful in standing for Parliament in 1876, he succeeded three years later. From there Seddon became known as a notorious and parochial member of Parliament. ln 1891 Seddon became the minister responsible for mines, defence and public works. With the death of Ballance in 1893, Seddon was appointed as the caretaker premier, a position that was confirmed later that year and which he retained until his death in 1906 (taking the title Prime Minister from 1900). Seddon was known for his populist and often controversial style, his humanitarism, and for a number of reforms including the Old-Age Pensions Act of 1898 and the Workers' Dwellings Act of 1905. A (perhaps apocryphal) story that indicates the esteem Seddon was held in on the West Coast is as follows: one of Seddon's political opponents approached an old miner and asked him for his vote in the upcoming election. 'The old fellow looked at his questioner with a startled glance "Is Dick dead, then?' he asked. The statue of Seddon erected at Hokitika is realistic in style, characteristic of the style of sculpture first associated with Pre-Raphaelite movement of the second half of the nineteenth century. Seddon is depicted in his contemporary clothes, with an accurate representation of his hands and face. The statue was described in a contemporary newspaper report as 'magnificant', and W. Parkinson & Co displayed it in Auckland before it was shipped down south. The inscription, carved on a block of granite below the plinth, states 'Richard John Seddon/P.C. L.L.D/Represented Westland in Parliament 1879-1906/Prime Minister of New Zealand 1893-1906'. At the time the Government Buildings in Hokitika were being designed it was suggested to the Government Architect, John Campbell, that he set the building back 20 feet (approximately six metres) to allow the statue to be set in front of the building. Campbell did so relucantly, feeling that 20 feet would not give the statue sufficient room to breathe. Architectural historian Peter Richardson points out that, unlike similar cases in Britain, there was no discussion about incorporating the statue into the design of the building; both were designed as separate and disparate objects. (Interestingly, Campbell designed his own monument to Seddon in the Bolton Street Cemetery, Wellington.) After many years of peaceful existence in front of the Government Buildings, the Seddon Statue was threatened with relocation during the 1990s. Both the Government Buildings and the Seddon Statue had been put up for sale by the Government Property Services in 1993. This attracted national attention and eventually the statue was retained in public ownership. In 1994 the Westland District Council proposed to relocate the statue to a roundabout in the middle of Hokitika. This was opposed by the New Zealand Historic Places Trust Pouhere Taonga and interested locals and the application to relocate the statue was withdrawn. To this day it remains on the site created for it in 1908-1910. The Seddon Statue at Hokitika is a significant memorial to one of New Zealand's legendary prime ministers. The West Coast community, where Seddon had been based for many years and whose issues he had taken with him to Parliament, paid for the statue to honour and commemorate him. While around half a dozen monuments were erected to Seddon throughout New Zealand, only two of them, the one by Sir Thomas Brock (1847-1922) outside Parliament Buildings, Wellington, and the one at Hokitika, are images of the man himself. The Hokitika statue is a fine example of the realistic style of sculpture developed in Victorian times. It was carved by one of the largest firms of sculptors and monumental masons in Auckland at the beginning of the twentieth century. The statue is a dominant element in the streetscape and its siting, next to the former Government Buildings, is an important part of its history. This was demonstrated by public opposition to proposals to shift it during the 1990s.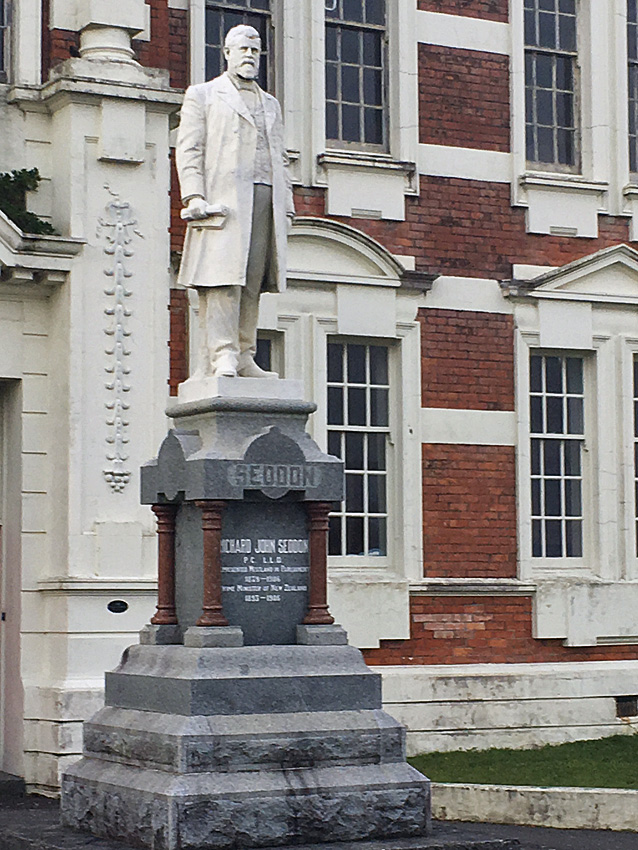 Seddon Statue, Hokitika | Andrew Coleman | 09/06/2018 | Heritage New Zealand Pouhere Taonga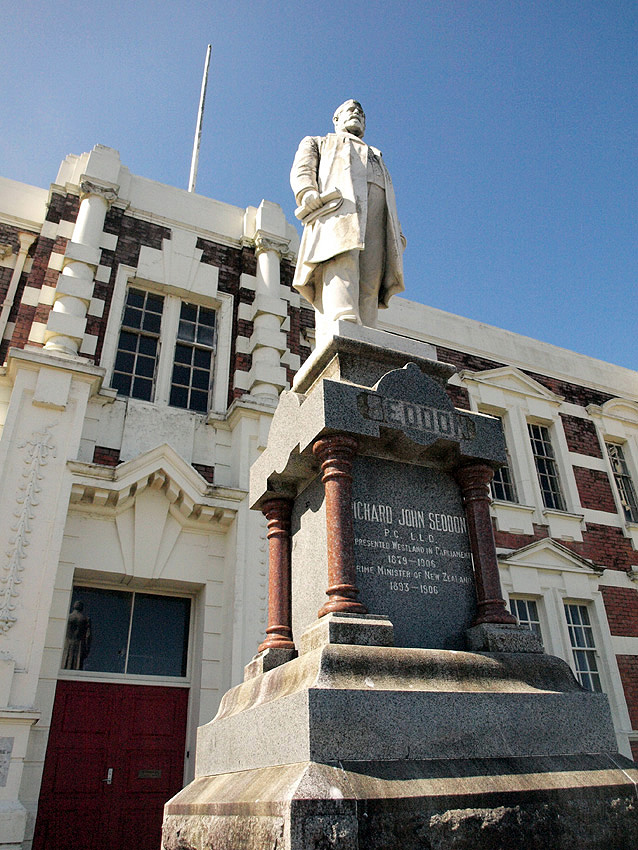 Seddon Statue, Hokitika | N Jackson | 24/10/2015 | Heritage New Zealand Pouhere Taonga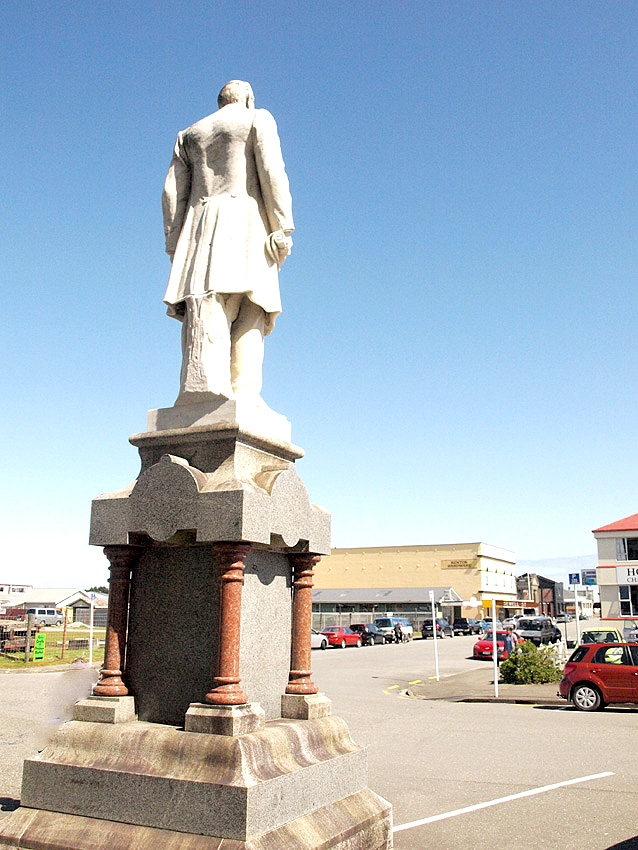 Seddon Statue, Hokitika | N Jackson | 24/10/2015 | Heritage New Zealand Pouhere Taonga
Seddon Statue, Hokitika. CC BY-NC-ND 2.0 Image courtesy of www.flickr.com | Shellie Evans - flyingkiwigirl | 15/04/2015 | Shellie Evans
List Entry Status
Historic Place Category 1
Date Entered
6th June 1990
Date of Effect
6th June 1990
City/District Council
Westland District
Extent of List Entry
Extent includes part of the land described as Lot 1 DP 3239 (RT WS8B/652), Westland Land District and the structure known as Seddon Statue thereon. See extent map tabled at the Rārangi Kōrero Committee meeting on 30 April 2019.
Legal description
Lot 1 DP 3239 (RT WS8B/652), Westland Land District
Location Description
Located in front of Hokitika Government Buildings (otherwise known as Seddon House).
Stay up to date with Heritage this month