Constructed in 1914, the Picton Railway Station was designed under George Troup (1863-1941) and became a fitting gateway at the northern terminal of the South Island Main Trunk. This single storey timber building has architectural significance because it is a classic Troup station with characteristic Edwardian embellishment. Historically and socially important, the station building, canopy and platform formed a crucial community transport and communications hub, especially in the early to mid-twentieth century. Many iwi are connected with the resource rich sounds and land of Te Tau Ihu o Te Waka-a-Māui, at the top of Te Waipounamu/the South Island. Waitohi was home to Te Āti Awa people when it was purchased in 1850 for the town eventually called Picton. By the late nineteenth century Picton had become an important local coastal shipping port and ferries ran between it, Nelson and Wellington. Connecting Picton's harbour and port facilities with the surrounding farming district and Blenheim by railway was part of Julius Vogel's public works and immigration scheme in the 1870s. Picton's first station officially opened on 12 October 1875. Early twentieth century port developments at Picton coincided with a period of expansion by the New Zealand Railways Department (NZR). The station's original site on the foreshore at London Quay was restricted. Therefore, the NZR decided to build a new station building and yard, which was opened in March 1914. Compared with the earlier 'spartan' building, Picton Railway Station was an elegant adornment to the town and typical of the approach taken by Troup. Picton's residents must have been pleased at no longer being upstaged by Blenheim, which got a Troup station in 1906, and also at having the honour of Prime Minister William Ferguson Massey (1856-1925) opening their station. Troup's best-known railway station is arguably Dunedin's grand 'gingerbread' masonry building, but more commonly Troup stations, like the example at Picton, were smaller timber buildings, featuring Tudor-esque stickwork, shaped bargeboards, bay windows and Marseille tile roofs; all combining to create an impressive focal point in the streetscape. From the platform side, shelter was provided by a canopy with picketed gable-ends and railway iron posts. The station building and associated facilities were essential to the town and wider region's economic and social life. For example, 'as many as 2,200 people could arrive from Wellington on Boxing Day or New Year's Day, many intending on travel beyond Picton by rail'. Until the 1960s, each school day students flowed onto the platform, travelling on the 'school train' to and from high school in Blenheim. The station was also the regional operational base, an important transit point for mail to and from the North Island, as well as providing important passenger facilities and services. The South Island Main Trunk, which the railway between Picton and Blenheim was among the earliest parts of, was only completed in 1945. Rail traffic to and through Picton then increased significantly from 1962 when the Railways Department started its roll-on-roll-off ferry service between Wellington and Picton. Since the early 1990s the station building has been primarily used as a commercial property, with its interior 'extensively remodelled' and the building extended to enclose part of the canopy and platform. For example, Subway has been based in the building since the early twenty-first century. The Coastal Pacific passenger service continues to stop at the station several times weekly (2021).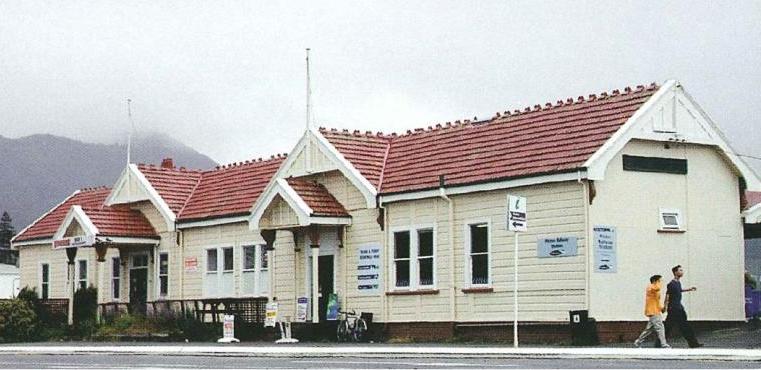 Picton Railway Station | NZ Historic Places Trust
List Entry Status
Historic Place Category 2
Date Entered
9th September 1991
Date of Effect
9th September 1991
City/District Council
Marlborough District
Extent of List Entry
Extent is the land described as Lot 1 DP 9032 (RT MB5B/874), Marlborough Land District and the building known as Picton Railway Station thereon and its platform and canopy.
Legal description
Lot 1 DP 9032 (RT MB5B/874), Marlborough Land District
Stay up to date with Heritage this month