Ruatuna is the birthplace of Gordon Coates (1878-1943), a prominent Northland politician and a former Prime Minister of New Zealand. Built in 1877, the kauri timber house was originally erected for Coates' parents, Edward (1843-1905) and Eleanor (1851-1935), as the main residence for an extensive estate in the northern Kaipara. Edward Coates came from a well-connected English gentry family, and had arrived in New Zealand in 1866. After obtaining 5,196 hectares (12,830 acres) of land in the Ruatuna area, much of it leased from local Maori, he experimented with introducing new animal breeds, importing the first Shropshire Down sheep to New Zealand and the first Hereford cattle to the North Island. Edward Coates also initiated changes to the landscape, including the creation of orchards and hedged fields from previously 'unimproved' ground. The residence was built in preparation for his marriage to Eleanor Aickin in 1877 and was located on elevated ground towards the northern end of the estate, overlooking the Kaipara Harbour which afforded waterborne transport to the area. The eldest of several sons, Gordon Coates took over the part-running of the farm in 1900, before being elected to the Otamatea County Council (1905). A few years after winning the parliamentary seat of Kaipara in 1911 he joined the conservative Reform Party, which traditionally represented the interests of farm owners and which promoted especially strong ties of loyalty to the British Empire. He occupied the Public Works (1920), Native Affairs (1921) and Railways (1923) portfolios before taking up the post of Prime Minister from 1925 to 1928. He also held further office in the 1930s and early 1940s, including as Minister of Armed Forces and War Coordination in a special administration during the Second World War (1939-45). The single-storey homestead was a comparatively humble structure, reflecting the pioneering nature of the family enterprise and perhaps its construction on leased land. It was erected as a simple, gabled building with a verandah at the front, and lean-to rooms on either side. Constructed by a local builder, Samuel Cooksey, the building fused the symmetry of early colonial architectural traditions with features of the newer Gothic Revival style, including prominent central gables at the front and rear. Its interior also exhibited Gothic-influenced elements, notably a front parlour and kitchen/dining room in the main body of the building that were both open to the roof with the pegged timber frame of the house fully visible. Family tradition has ascribed its appearance as being modelled on that of a Scottish hunting lodge, a building type with historically strong aristocratic associations. In nineteenth-century Britain, Gothic Revival and related styles harked back to a past when landed families and other high-status groups were considered to have been secure in their social position, so aspects of Ruatuna's appearance could be interpreted as reflecting ongoing English gentry aspirations or nostalgia. Gothic architecture was also frequently used to embellish buildings in large estates and parks, increasing their Picturesque qualities and alluding to concepts of antiquity and grandeur. Associated outbuildings around the dwelling included a dairy, a general shed and a privy, which were all necessary for a self-sufficient homestead. A separate cottage was also constructed within the grounds. A woolshed and stables complex beyond the immediate domestic curtilage pre-dates the house and was heavily used in the early 1900s, when the property boasted the largest flock of Shropshire Down sheep in the country. At this time, many workers on the estate were Maori. Changes to the house have been comparatively few, but they included an added bedroom for Gordon Coates when he reached adolescence, and a schoolroom for his sisters' education, both undertaken in 1893. Following the departure of each of the sons - including Gordon - by 1918, alterations by an all-female household included a new kitchen, a bathroom and two additional bedrooms. Extensive nineteenth-century gardens around the dwelling were maintained. Ruatuna was noted for its social gatherings, which included popular tennis parties. A grass tennis court in use at the front of the house by 1905 was concreted in 1929. Following continued use by the Coates family, the house and almost 2.5 hectares (six acres) of land was left to the New Zealand Historic Places Trust/Pouhere Taonga in 1976. Much of the associated farm had previously been subdivided and sold in the late 1940s. Remaining farmland was retained within the family until 1997, when it was purchased by the New Zealand Historic Places Trust/Pouhere Taonga. The house and its outbuildings are currently being conserved (2008) for future opening to the public. Ruatuna is nationally significant for its association with the country's second New Zealand-born Prime Minister, Gordon Coates, and the rural pioneering background that helped to shape his political views. It is valuable for its links with the development of stock breeding in New Zealand and the introduction of new types of cattle and sheep. The place demonstrates important changes to the ownership and use of the land in the northern Kaipara during the later colonial period, including the creation of large private estates. It also reflects late nineteenth- and early twentieth-century rural attitudes to self-sufficiency, home education, sanitation and other aspects of daily life, and has links with subsequent farming by an all-female household. The main dwelling is architecturally significant as a well-preserved 1870s structure, which fuses Gothic and Georgian forms and which also incorporates an unusual domestic interior influenced by medievalist approaches. The place is important as part of a more extensive historic landscape, which includes agricultural outbuildings and other features linked to a broader farming estate.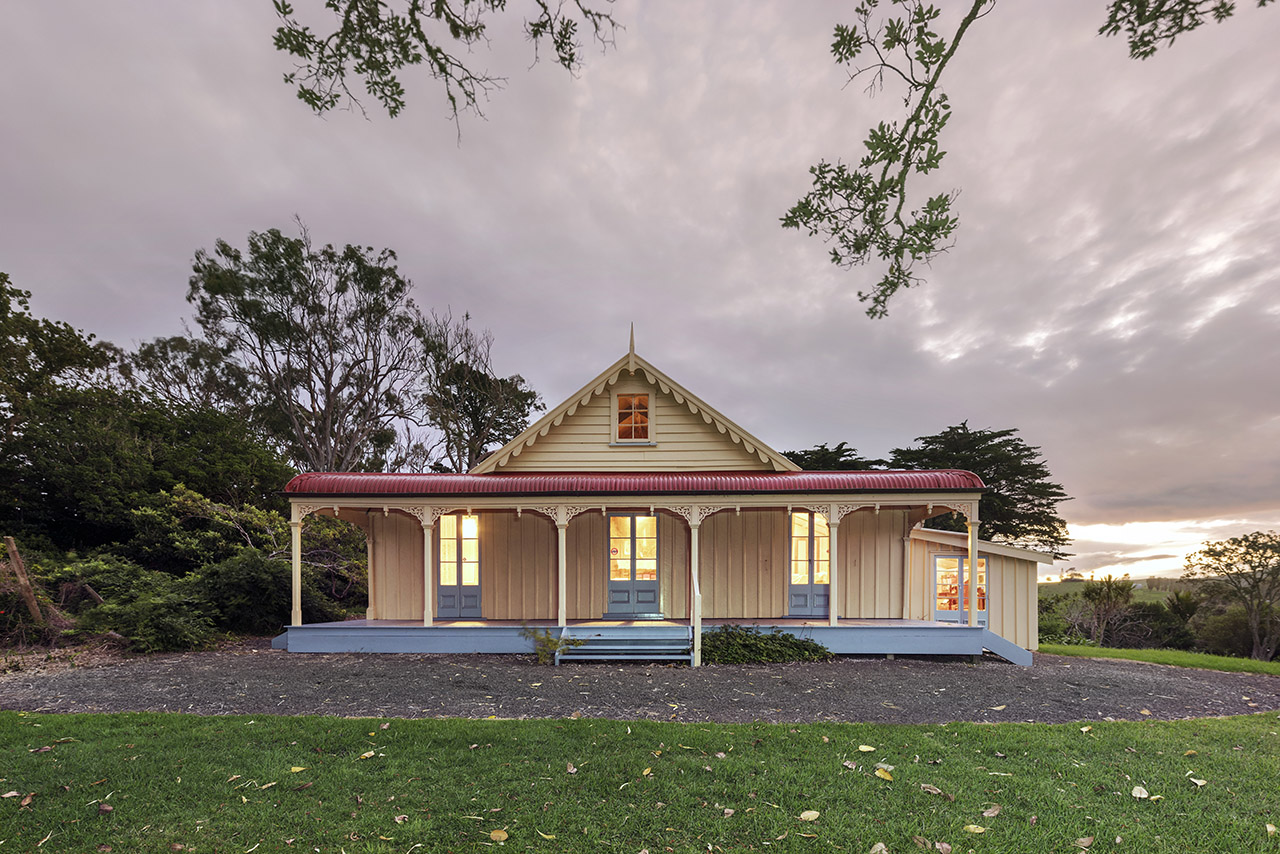 Ruatuna, Matakohe | Grant Sheehan | 09/05/2017 | Heritage New Zealand
Ruatuna, Matakohe. Drone shot | Grant Sheehan | 09/05/2017 | Heritage New Zealand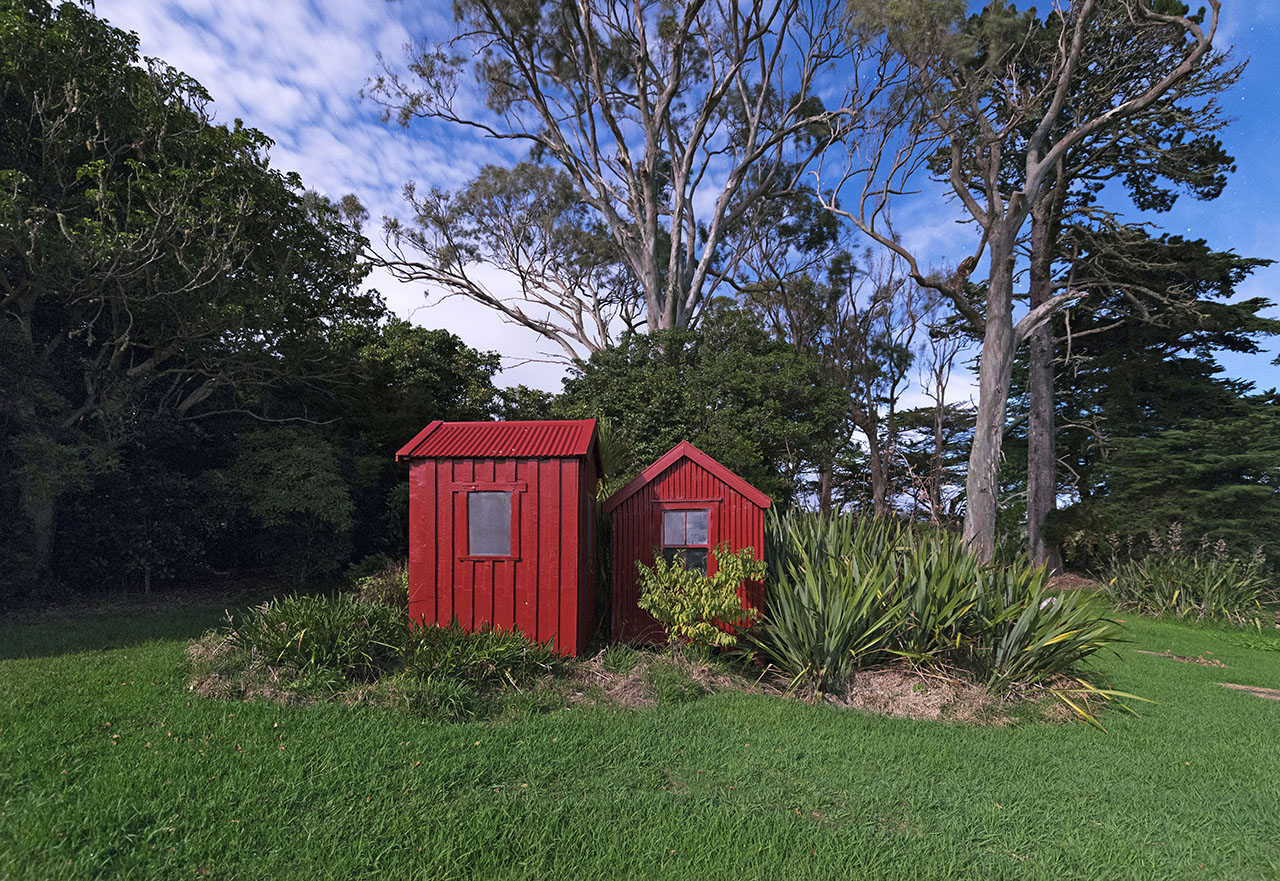 Ruatuna, Matakohe. Outbuildings | Grant Sheehan | 09/05/2017 | Heritage New Zealand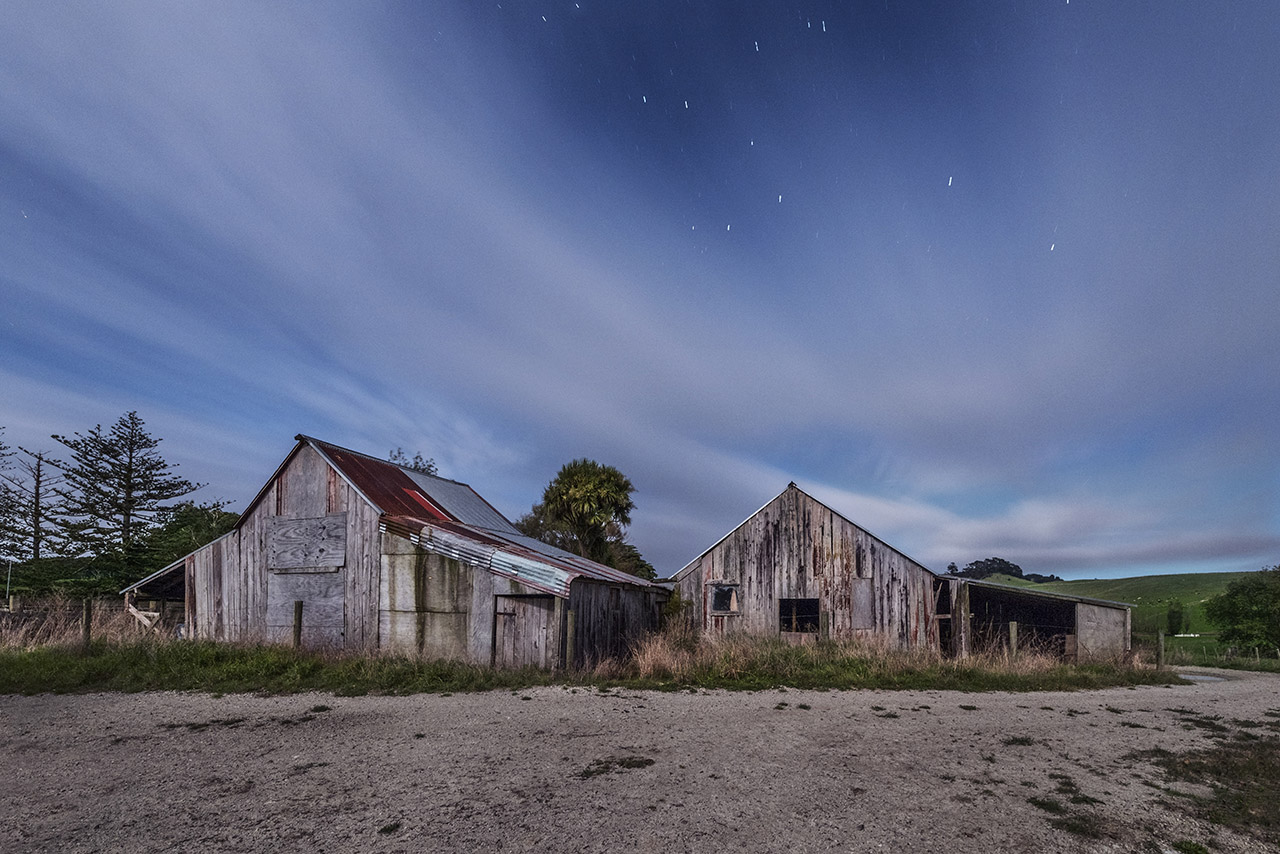 Ruatuna, Matakohe. Outbuildings | Grant Sheehan | 09/05/2017 | Heritage New Zealand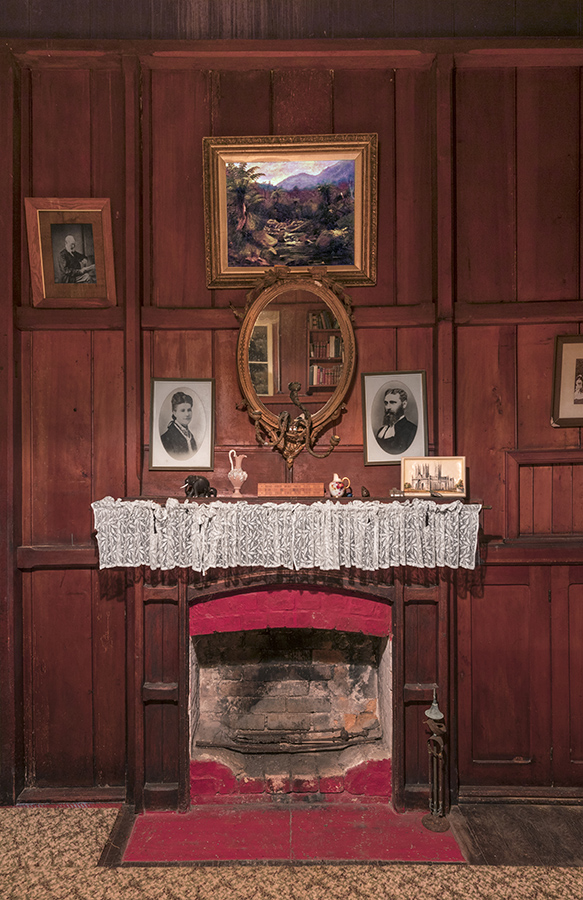 Ruatuna, Matakohe. Sitting room | Grant Sheehan | 09/05/2017 | Heritage New Zealand
List Entry Status
Historic Place Category 1
Access
Private/No Public Access
Date Entered
6th June 1983
Date of Effect
6th June 1983
City/District Council
Kaipara District
Extent of List Entry
Extent includes the land described as Lot 1 DP 67079 (RT NA51D/1378), North Auckland Land District and the structures known as Ruatuna thereon, and their fittings and fixtures. The registration includes the main house, a dairy, a general shed, an outside toilet (earth closet), a washhouse, a garage, the remains of a hen house, an arbour, two tank stands, and a concrete tennis court.
Legal description
Lot 1 DP 67079 (RT NA51D/1378), North Auckland Land District
Location Description
On the eastern side of Tinopai Road, approximately 6.5 km south of Matakohe township.
Stay up to date with Heritage this month