The Arahina training centre in Marton served as the national training centre for girl guides between 1946 and 1999. Prior to that it was the home of Alfred and Jean Crooke, who were responsible for the construction of the main house in 1919, and who resided in the house until the early 1940s. The land, first purchased by Jane Duthie Crooke in 1911, was bought by the Girl Guides Association (New Zealand Branch) Incorporated (Girl Guides) in 1946. The area contains a range of facilities used by, or built for, the Girl Guides. The main house, named 'Astolat' by the Crookes and constructed in 1919, dominates the complex. Its importance in the setting is emphasised by an expanse of grass situated at the front, which allows an unimpeded view of the building. The surrounds include a camping ground and campfire circle, an outdoor bush chapel, gardens, accommodation blocks, huts and halls. Arahina is historically and culturally significant for its association with the Girl Guide movement in New Zealand. The Girl Guide movement has had a major impact on the lives of many young New Zealand women. At Arahina, thousands of guides and leaders were trained, and went on to provide leadership to generations of New Zealand girl guides. The area also has aesthetic and architectural value. The homestead is a fine example of the English Domestic Revival style, and is carefully detailed and well handled. The homestead is set among well-kept and carefully laid out gardens and outbuildings that illustrate the importance the NZ Girl Guides placed on outdoor recreation and training.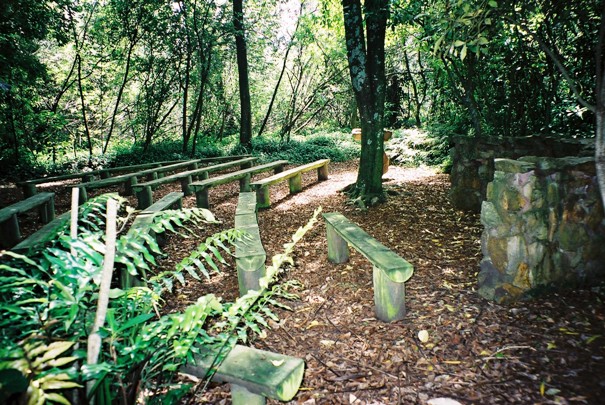 Arahina Historic Area | Rebecca O'Brien | NZ Historic Places Trust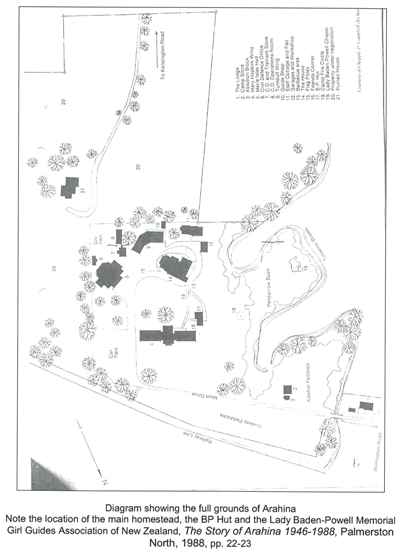 Plan of Historic Area from registration report. | 24/06/2005 | NZ Historic Places Trust
List Entry Status
Historic Area
Access
Private/No Public Access
Date Entered
6th June 2005
Date of Effect
6th June 2005
City/District Council
Rangitīkei District
Region
Horizons (Manawatū-Whanganui) Region
Extent of List Entry
The Registration includes the land comprised in Certificate of Title 42D/142, Wellington Registry as marked on Extent of Registration Map; and the buildings and their fittings and fixtures and the individual items are marked on the Extent of Registration Map (see Appendix 4 in the registration proposal).. The Arahina Historic Area contains a range of facilities used by, or built for, the Girl Guides. Included in the area are: the main house 'Astolat', Lady Baden-Powell Memorial Chapel, Girl Guides' Campfire Circle, Mary Hopkirk Wing, a sun-dial and flagpole, the BP Hut (originally known as 'Mine Haven'), Marie Isles Hall, the Turnbull Wing, various outbuildings and garages, and the staff cottage and flat.
Legal description
Lot 1 DP 75470, Pt Blk VII Rangitikei District, Pt Blk VII Rangitikei District, Pt Lot 2 on Deeds Plan 284, Pt Lots 1 and 2 on DP 18830, Pt Lot 1 Deeds Plan 430 and Lots 1 and 2 on DP 45023 (RT WN 42D/142), Wellington Land District
Stay up to date with Heritage this month