The Junction Hotel is a significant landmark on the southern State Highway entrance to Oamaru. In design and decoration it is similar in style to the Oamaru stone buildings which the town is renowned for. Its positioning on a prominent hill top site is an indication of its past use for accommodation largely by visiting farmers, due to its proximity to grazing and the saleyards for stock, and en route to nearby Kakanui. The story it tells of financial difficulty and bankruptcy of owners is one not always as evident in stories of our colonial past. Its subsequent history and particularly the de-licensing as a result of the vote for No License in 1906 gives an interesting indication of the effects of prohibition with the building rendered useless for its original function as a licensed premises for the next fifty years.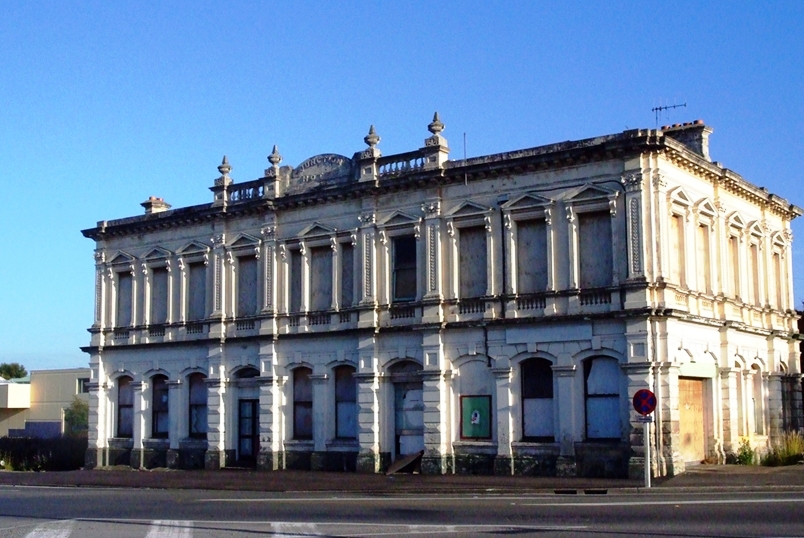 Junction Hotel. Courtesy of Francis Vallance from www.flickr.com | Francis Vallance | 31/12/2007 | Francis Vallance
List Entry Status
Historic Place Category 2
Access
Private/No Public Access
Date Entered
12th December 2005
Date of Effect
12th December 2005
City/District Council
Waitaki District
Extent of List Entry
Extent includes the land described as Lot 1 DP 7022 (RT OT358/50), Otago Land District and the building known as Junction Hotel and outbuildings, their fixtures and fittings, thereon.
Legal description
Lot 1 DP 7022 (RT OT358/50), Otago Land District
Location Description
The appropriately-named Junction Hotel is situated at the intersection of Wansbeck, Severn, Towey Streets and Awamoa Road. The Hotel has two street frontages; the main entrance is at 62 Wansbeck Street, while the other frontage is numbered 20 Towey Street on Quick Map 2004.
Stay up to date with Heritage this month