The Makatote Tramway is situated on the western boundary of the Tongariro National Park, approximately ten kilometres south of National Park (the village), on State Highway 4. Historical records indicate that the tramway dates to the late 1920s, and was in use till 1940, when the sawmilling operation closed down as a result of financial difficulties. The site consists of a branching network of tramlines extending east and northeast of State Highway 4, and contains a range of structures and features associated with the sawmilling operations, including skid sites, a log hauler, water pits, bogie wheels and a range of metal artefacts. It also encompasses four associated house sites, marked by clearings in the bush running south to the point where State Highway 4 descends into the Makatote gully.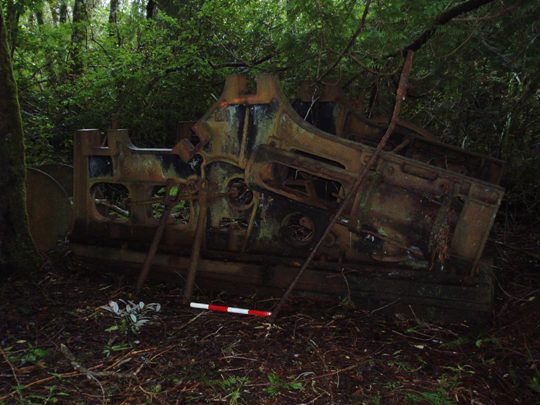 Close up of log hauler at end of side branch to the west of the left hand branch | Joanna Wylie | 01/07/2005 | NZ Historic Places Trust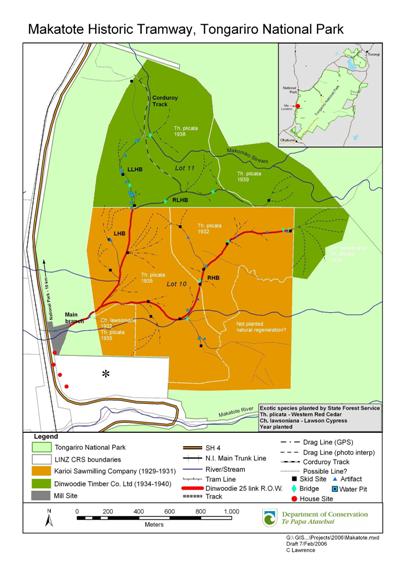 Map of Makatote Tramway Site | 07/02/2006 | Department of Conservation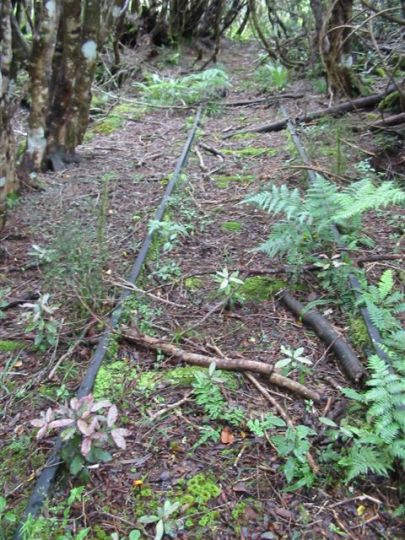 Makatote Tramway. Section of metal rail on right hand branch | Glen Hazleton | 01/03/2005 | Department of Conservation
List Entry Status
Historic Place Category 2
Access
Private/No Public Access
Date Entered
6th June 2006
Date of Effect
6th June 2006
City/District Council
Ruapehu District
Region
Horizons (Manawatū-Whanganui) Region
Extent of List Entry
Registration includes the archaeological remains and extant features of the whole of that area related to the sawmilling operation, thereby incorporating not only the tramway and associated features (skid sites, drag lines, water pits), but also the mill site and house sites. An archaeological survey has indicated that this area encompasses the land from State Highway 4 east to the foothills, from Makatote Stream gully in the south, to the Makomiko Stream in the north . Historical maps indicate that the tramway extended further to the northeast/east, beyond the stand of Chamaecyparis lawsoniana (Lawson Cypress) into Pt Waimarino 1, but no evidence of this could be found during the archaeological survey.
Legal description
Sec 1 Blk IX, Ruapehu SD. (Tongariro National Park: NZ Gazette, 1984, p.1679) [the tramway covers only that portion of Sec 1 Blk IX which is to the north of the Makatote River]; Pt Sec 9 Blk VIII, Manganui SD. (Scenic Reserve: NZ Gazette, 1914, p.4144)
Location Description
The Makatote Tramway is situated on the western boundary of the Tongariro National Park, approximately five kilometres south of Erua, and ten kilometres south of National Park, on State Highway 4 (see Appendix 2). It is accessed via a rough track that leads into the bush, just north of the Makatote Viaduct. Whilst this track is quite visible from the side of the road, the route through the bush to the beginning of the tramway is not clearly marked. Anyone visiting the tramway would need to be guided by someone who was familiar with the site.
Stay up to date with Heritage this month