Bridgers' Ltd (Former), on the corner of Church Street and Elliott Street, opened in 1915 as Opotiki's first department store. The department store is an assemblage of six contiguous buildings from different eras, the earliest of which date from the late 1890s-early 1900s. The department store incorporated the earlier structures and the whole complex operated as one business for several decades. The new store was a major retail outlet with large floor space for displays and a mail order service for rural customers. The new department store was probably designed by Bay of Plenty architect Harry Lesley Daniel West, who played a prominent role in the development of towns such as Opotiki, Whakatane and Tauranga in the early decades of the twentieth century. Around 1920 the Bridgers' Ltd department store was purchased by the Farmers' Union Trading Company Limited as one of their chain of department stores. The Farmers' served Opotiki for nearly 70 years. As well as supplying merchandise and produce, Farmers' provided employment opportunities for local people either in the shop or furniture factory. In 1950 the Farmers' helped establish a clothing factory especially for Maori workers, a major initiative at that time. The main part of the building has an ornate, two-storey façade facing the intersection of two of Opotiki's principal streets. This building retains much of its original significant fabric and has not been greatly modified although its ornate parapets were removed in the mid-1950s. Its façade extends along Church Street to include a single-storey shop that was built for Bridgers' Ltd around 1900. Along Elliott Street, the department store incorporated an earlier shop and extended into another single-storey building which has structural elements reflecting the main building and is also presumed to have been built around 1915. Adjoining that 'extension' is a building that, although heavily modified in around 1954-55, is believed to date from the 1920s or earlier, and may have been the Northern Steam Ship Company offices. Elliott Street was intended by the town's planners to be the main thoroughfare and the design of the principal building reflects this emphasis. The department store continues in its original purpose as a retail store despite changes in ownership. The rooms on the upper storey have seen additional uses as medical rooms, a dance hall, tea rooms, a club room for returned servicemen, a betting agency and residential accommodation. At times this has enabled public access and enjoyment of the building, activities which fostered cultural and community life in Opotiki. The easternmost building of the complex has been a restaurant and is now a bar, thus continuing this social aspect of the building's history.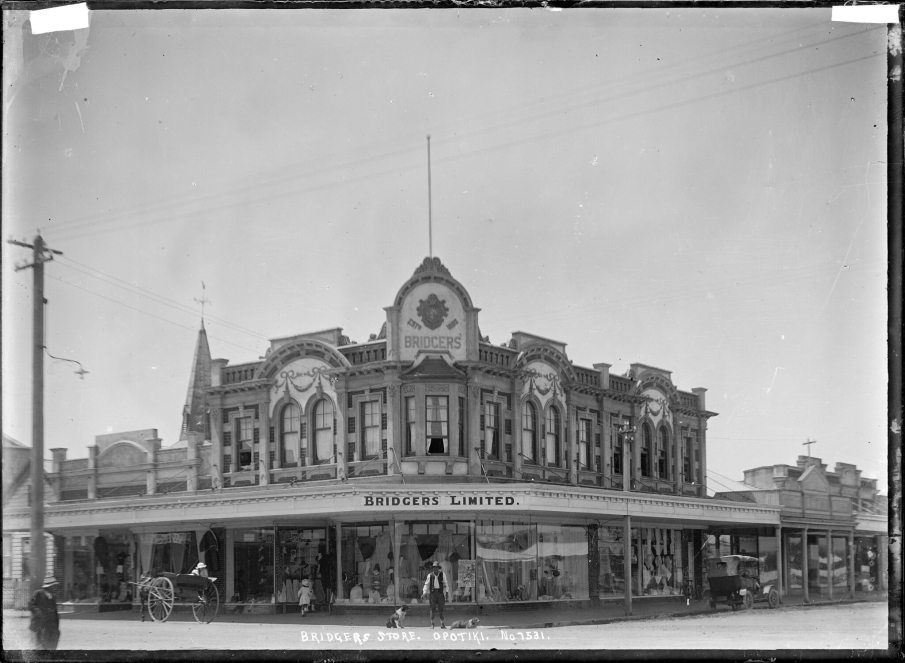 Bridgers' Ltd (Former), Opotiki. c.1900s Price, William Archer, 1866-1948 :Collection of post card negatives. Ref: 1/2-001106-G | William A Price | Alexander Turnbull Library, Wellington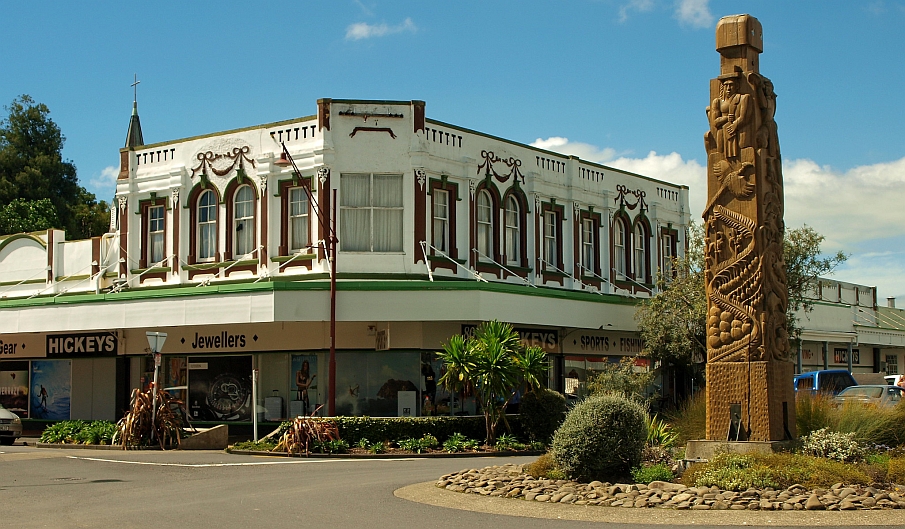 Bridgers' Ltd (Former), Opotiki. Image courtesy of www.flickr.com | Joe Wallace | 13/03/2017 | Joe Wallace
List Entry Status
Historic Place Category 2
Access
Private/No Public Access
Date Entered
6th June 2008
Date of Effect
6th June 2008
City/District Council
Opotiki District
Region
Bay of Plenty Region
Extent of List Entry
Extent includes the land described as Lot 48 Sec 1 Town of Opotiki, Gisborne Land District, and the buildings known as Bridgers' Ltd (Former) thereon, and its fittings and fixtures. (Refer to map in Appendix 1 of the registration report for further information).
Legal description
Lot 48 Sec 1 Town of Opotiki (GS2C/1119), Gisborne Land District
Location Description
The building is on the northeast corner of the intersection of Church Street and Elliott Street, extending along Elliott Street.
Stay up to date with Heritage this month