The distinctive and rare bird figure painted at Te Manunui Rock Art Site is celebrated in the name gifted to the site by tangata whenua in 2007. Tangata whenua believe the bird figure 'Te Manunui' (the Great Bird) represents New Zealand's now extinct Pouakai or the Haast eagle (Aquila moorei, previously Harpagornis moorei) that was associated with the Canterbury area. Other identifiable figures which appear in the Te Manunui rock art include fish and possibly moa. The art is visually bold, well executed, in good condition and contains complete figures. Te Manunui, formerly known as the Frenchmans Gully Rock Art site, is located within the Pareora region of inland South Canterbury. The site was renamed Te Manunui when the South Canterbury Historic Places Branch elected to significantly upgrade the rock art site as their 50 year anniversary project. Te Manunui Rock Art Site has special significance to tangata whenua as a physical example of the activities and places associated with their ancestors that still exists in the landscape today. Rock art sites relate to traditional stories associated with settlement and travelling pathways and provides tangible evidence of traditions and practices of their ancestors. Although no direct dating of rock art has been carried out in New Zealand, the similarity in style to Eastern Polynesian rock art, the depiction of long extinct birds such as moa and Pouakai and the presence of early period archaeological deposits in shelter floors, suggest that rock art was a practice that came with early settlers to Te Wai Pounamu.. Although no examples are found at Te Manunui, Te whakairo (rock art drawing) was practised into the early European contact period when objects such as sailing ships and horses were incorporated into the art, along with written script in te reo Maori. Te Manunui Rock Art Site is part of the wider South Island group of drawings which share uniformity in style and technique. The site is located within a rock shelter formed by an overhang in a limestone outcrop. The vast majority of rock art sites are located on private land and fortunately, Te Manunui Rock Art Site is one of the few sites that are accessible to the public. The ease of access to the site and the clarity of drawings make Te Manunui a very important site for raising public awareness and appreciation of Maori rock art and educating the public about the earliest stages of human habitation in New Zealand. The archaeological and historical values of the site are important as a site associated with pre-1900 human activity in New Zealand that has been, and still has, the potential for further investigation by archaeological methods. Indicative of the regard that this rock art site has had amongst the wider community, the site was voluntarily registered as a Private Historic Reserve in 1962 and significantly upgraded with cages, interpretation panels, and a proper track by Historic Places Trust South Canterbury branch volunteer effort in 2007 in collaboration with the Waimate and Timaru District Councils and Ngai Tahu Maori Rock Art Trust and New Zealand Historic Places Trust. It is managed by Heritage New Zealand.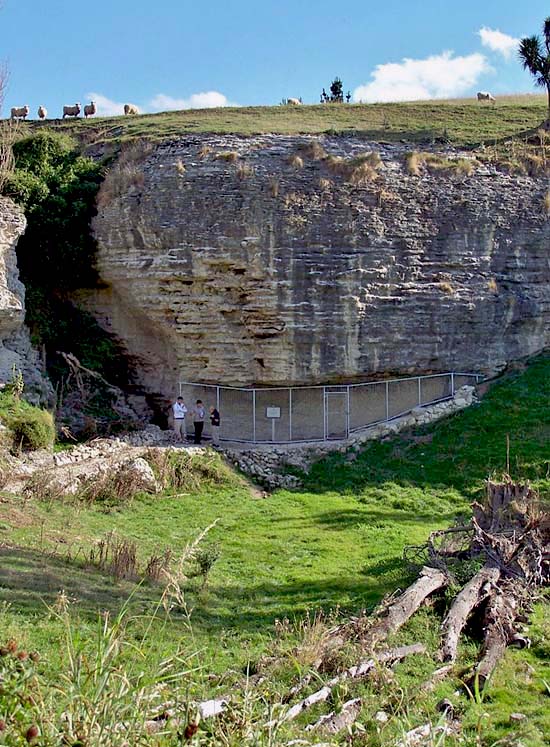 Te Manunui Rock Art Site. View from the road to the site | Ellen Andersen | 01/05/2007 | Heritage New Zealand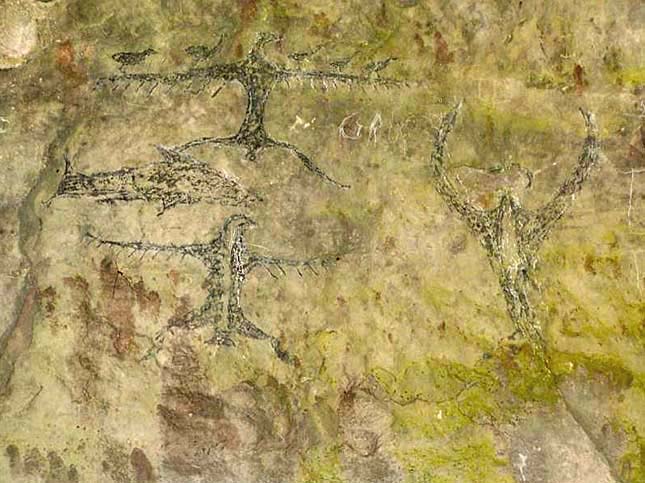 Te Manunui Rock Art Site. Detail of artwork incluing fsih and bird figures | Ellen Andersen | 01/05/2007 | Heritage New Zealand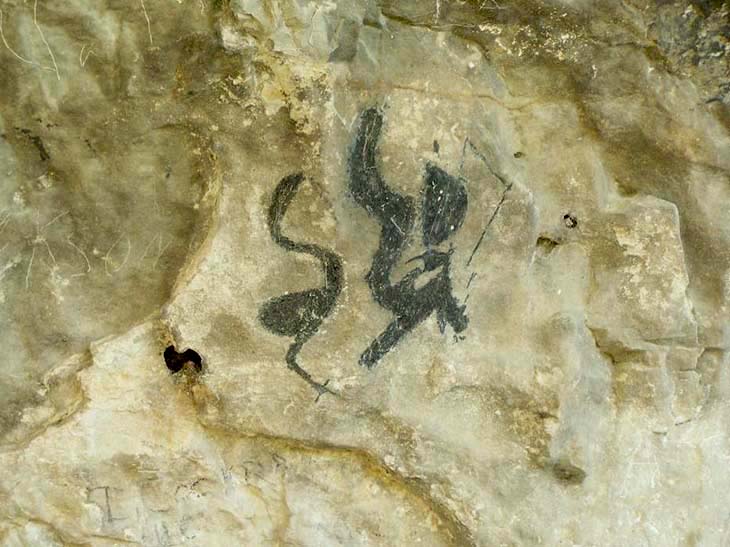 Te Manunui Rock Art Site. Detail of artwork | Ellen Andersen | 01/05/2007 | Heritage New Zealand
List Entry Status
Historic Place Category 1
Date of Effect
5th May 2014
City/District Council
Waimate District
Extent of List Entry
Extent includes part of the land described as Pt Lot 2 DP 25215 (RT CB20K/707, NZ Gazette 1962, p.922, p.927), Canterbury Land District, and the site known as Te Manunui Rock Art Site thereon, totalling 700m.2 The extent includes a 10 metre buffer at the top of the overhang to 10 metres on the flat immediately in front of the rock art face to ensure that the integrity of the rock art site is preserved.
Legal description
Pt Lot 2 DP 25215 (RT CB20K/707, NZ Gazette 1962, p.922, p. 927), Canterbury Land District
Location Description
Te Manunui rock art site is located on the farm property between 215 and 275 Frenchmans Gully Rd, Maungati. The site is publicly accessible from Frenchman's Gully Road.
Stay up to date with Heritage this month