Matawhero Church, at Matawhero near Gisborne in Poverty Bay, was built in 1865 or 1866 as a schoolroom for the European settler community. It was built with the assistance of the Anglican minister William Leonard Williams who used it for church services also. The schoolroom-church was involved in the campaign waged by Te Kooti Arikirangi Te Turuki (Te Kooti) against Europeans and Maori who had over-ridden his land claims, supported the government in land and sovereignty issues or personally offended him in some way. In July 1868 the schoolroom served for a short period as a military hospital for colonial forces and volunteers injured in the first encounter with Te Kooti after his escape from imprisonment in the Chatham Islands. In November 1868 Matawhero Church was one of only a few buildings left standing and unharmed by Te Kooti and his troops when they raided Matawhero and Makaraka; at least 51 people were killed in what became known as the 'Poverty Bay Massacre'. In 1870 militia camped in the church and its grounds when anticipating another attack by Te Kooti. In 1872 Matawhero Church (then Matawhero Schoolroom) was purchased by the Presbyterian Church and became the first Presbyterian place of worship in Poverty Bay. For the last 136 years as it has served continuously as a Presbyterian church as well as being a meeting place and social venue for the rural community. The building began as a simple wooden one-room structure with a shingle roof and vertical tongue and groove timber cladding on the exterior, and with no adornment on the interior except for the exposed framing, trusses and tongue and groove wall linings. Except for the roof, which is now corrugated iron, this appearance has been maintained even though it has been extended a few times with side porches; lengthening and widening the nave to incorporate the porches; a rear porch added and the chancel walls re-built. A hall built in 1956 adjacent to the church was constructed in similar style and in appearance the property has high integrity. It is not known who designed and built the church. Matawhero Church is significant in its survival from the early period of European settlement of Poverty Bay and its continuous use as a place of Christian worship for over 143 years. It owes its survival in the first instance through the Poverty Bay conflicts of the mid-1860s to the spiritual values placed on the building by the activist Te Kooti, who destroyed almost all other buildings in the surrounding district. Its subsequent survival and maintenance of its excellent condition is due to the high value placed on it by the Presbyterian congregation to whom it has spiritual and social values as being the focus of community activities.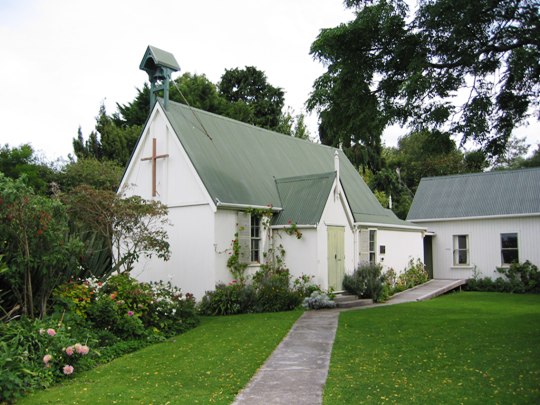 Matawhero Church | Martin Jones | 02/04/2003 | Heritage New Zealand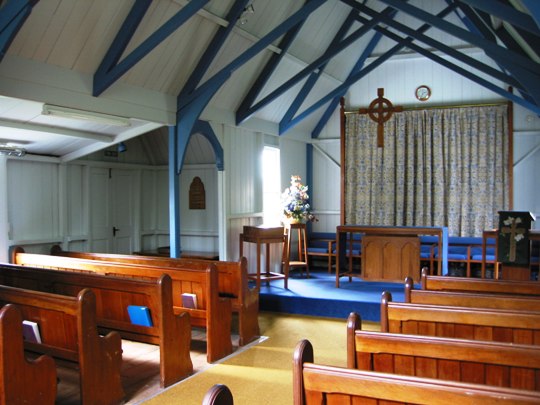 Matawhero Church. Interior | Martin Jones | 02/04/2003 | Heritage New Zealand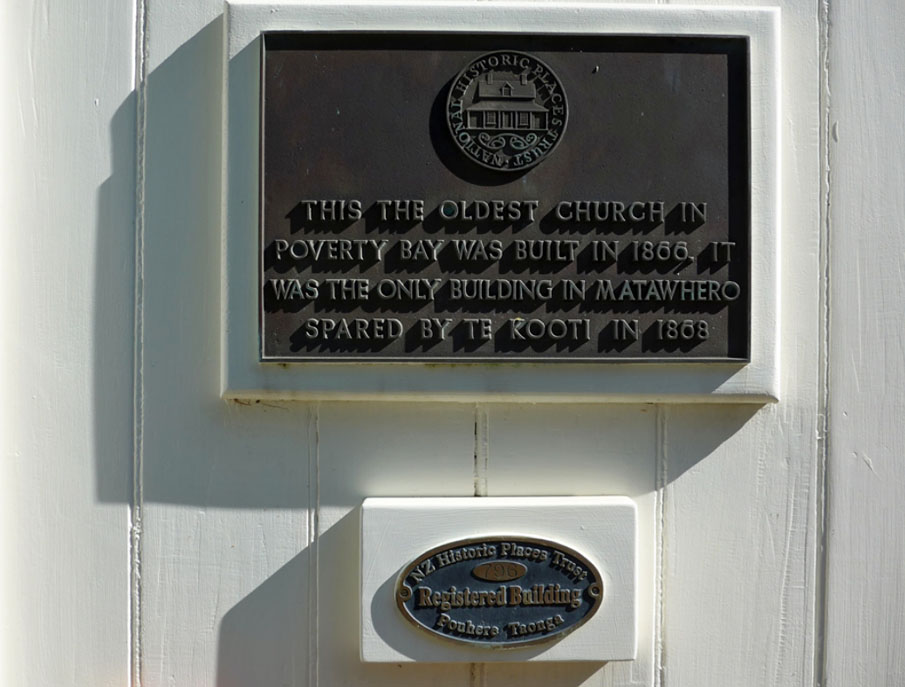 Mtaawhero Church. 2015 New Zealand Historic Places Trust Plaque. Image courtesy of www.nzhistory.govt.nz | Bruce Ringer | Auckland Libraries
List Entry Status
Historic Place Category 1
Access
Private/No Public Access
Date Entered
6th June 2008
Date of Effect
6th June 2008
City/District Council
Gisborne District
Extent of List Entry
Extent includes the land described as Lot 2 DP 331263, Gisborne Land District, and the building known as Matawhero Church thereon, and its fittings and fixtures and the following chattels: six memorial plaques, roll of ministers on wooden plaque, 17 pews, one communion cup, two plates, one font bowl, one 19th-century Bible. The hall on the land described above is excluded. (Refer to map in Appendix 1 of the registration report for further information and to more detailed description of chattels in Section 2.3).
Legal description
Lot 2 DP 331263 (GS128679), Gisborne Land District
Location Description
The church is at the end of Church Lane which leads off the northern end of Saleyards Road.
Stay up to date with Heritage this month