A tiny house for a man of large passions and commitments – this little brick cottage on one of North Dunedin's densely-built streets was home to Robert Lord, New Zealand's first professional playwright and now provides a haven for writers. Robert Lord's Cottage has special historical, cultural and architectural significance, recalling Lord's role in developing professional theatre and playwriting in New Zealand and the vital role of residencies and community support for New Zealand writers. The flat land in North Dunedin was home to many workers and their families in the nineteenth and early twentieth century, when tiny cottages packed the narrow gridded streets. This cottage, built for Richard Tilbury in 1909, remained a residence throughout the twentieth century. In 1988, New York-based playwright Robert Lord bought the cottage, planning to split his time between New York and Dunedin. Returning to Dunedin in 1990 as the Fortune Theatre's playwright in residence, Lord set about organizing the garden, planting trees, and altering the house to his requirements and aesthetic. He lived at Titan Street until his untimely death in January 1992. Larger than life and subversive, with an energy that must have been barely contained in this tiny residence, Lord played out his belief and commitment to theatre and writing. Theatre practitioner, writer and academic Phillip Mann, writes: 'Lord's contribution to New Zealand theatre has been enormous. Not only is he one of our most celebrated playwrights, but his generosity towards other writers lives on in the form of his small house in Dunedin .… In those early days, his tall, enthusiastic figure with his loud laugh and boundless energy could be found at the theatre whether serving as a publicist or assistant editor for Act Magazine, or stage manager, occasional actor and director, or cleaning the dressing rooms when necessary. He seemed to know everyone and be everywhere. But what no one knew was that, in his time away from the theatre, Robert Lord was writing plays.' Lord's plays are original and enduring – with later works such as Joyful and Triumphant' revealing him as 'one of New Zealand's most gifted playwrights.' Lord wanted other New Zealand playwrights to prosper and was one of the founders of Playmarket – which Mann writes is 'surely one of the most successful Writers' Agencies in the world – and this, as well as the many plays he wrote, will stand as a memorial to his generosity, his abundant talent and his serious concern for the health and necessity of New Zealand playwriting.' [Lord identifed as a gay man at a time of recent change in homosexual law reform in New Zealand]. When Lord returned to Dunedin he was dying of an AIDS-related illness. With the future in mind, Lord set up the 'Writers Cottage Trust' to allow for his cottage to be used in perpetuity as writer-in-residence, to 'support and assist established writers by providing accommodation in Dunedin free of rental as a retreat, to enable such writers to work on literary projects.' Irreverent, opinionated and passionate, Lord's house belies his large person and exuberance, but also reflects the often marginal existence of New Zealand writers, despite their fundamental importance to our culture. This small cottage is a contributing element in recognizing Dunedin as a UNESCO Creative City of Literature. In 2016, the Robert Lord Writers' Cottage, an appropriate miniature of Lord's life reflecting his writer's craft, remains a haven for writers, continuing Lord's legacy of supporting New Zealand writing.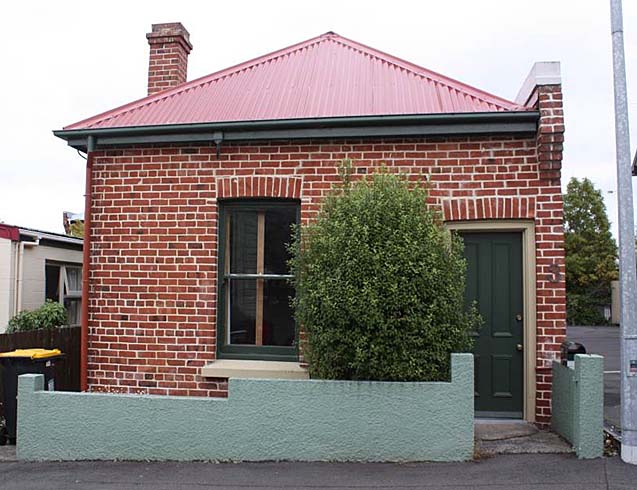 Robert Lord Writers' Cottage, Dunedin. Front elevation from Titan Street | Heather Bauchop | 26/04/2016 | Heritage New Zealand
List Entry Status
Historic Place Category 1
Access
Private/No Public Access
Date Entered
12th December 2016
Date of Effect
1st January 2017
City/District Council
Dunedin City
Extent of List Entry
Extent includes the land described as Lot 15 Deed Plan 43 (RT OT332/96), Otago Land District, the building known as Robert Lord Writers' Cottage, garden and outbuildings thereon. There are chattels included as part of the List entry. (Refer to map in Appendix 1 of the List entry report for further information, and Appendix 4 for a list of chattels).
Legal description
Lot 15 Deed Plan 43 (RT OT332/96), Otago Land District
Stay up to date with Heritage this month