Situated on the vestigial stump of Oputae / Observation Point in Kōpūtai / Port Chalmers, the Studio of Ralph Hotere (Former) is the last remaining house on Aurora Terrace near the Flagstaff (List No. 2319) on the slope overlooking the awa Ōtākou / Otago Harbour and Muaupoko/ Otago Peninsula. The property is situated south of and adjacent to the Hotere Garden Oputae and was the first studio he owned and is the only surviving building that embodies him and his work. Both iwi history and archaeological evidence show Māori occupation in the Ōtākou / Otago region since the 12th century. Early Kōpūtai was a small settlement recorded as abandoned in the 1840s. Following the settlement it continued to be a tauraka waka within the awa Ōtākou / Otago Habour, an ara tawhito and provider of abundant resources. Kōpūtai was the location of the signing of the Otago Deed between representatives of the New Zealand Company and 25 chiefs on 31 July 1844. Today, Kōpūtai is an acknowledged Wāhi tapu area. The simple square cottage on Aurora terrace was built in 1876 by William John Putnam an engineer and foreman stevedore for the New Zealand Shipping Company. For a century the cottage was home to several watersider families. During this time the cottage received few recorded alterations or additions. The cottage is a typical square plan four room cottage, built of rusticated weatherboard with a hipped corrugated iron roof, lean-to veranda on plain posts and a central door flanked by double-hung sash windows. Early photographs show it was unadorned. Internally the ceilings were board and batten and the walls lined with vertical tongue and groove. The ground level comprised four rooms, two of which were separated by a chimney, and two bedrooms. Downstairs was galley kitchen with coal range and external door leading to the garden. Hone Papita Raukura (Ralph) Hotere purchased the property in 1970 as his first studio and altered the interior significantly, pulling down several internal walls to create a larger working space on the upper level, adding windows, and a kitchen annex downstairs. Evidence of his style and craftsmanship can be seen throughout the house in painted windows, handmade stairs and shelves, and kitchen built from recycled timber. The imposing entrance gate which he designed, built of carefully composed recycled items, still stands. The studio has been a place of companionship and creative communion for many of New Zealand's most notable artists, writers, and creatives. The studio is in the same layout it was when Hotere sold it to his very good friend Naomi Wilson in 1984. The cottage has been exquisitely maintained with additions and enhancements made in harmony with Hotere's ethos of 'making do' with what is available. The atmosphere of the building provokes a strong emotional response and is a particularly important place for the wider Hotere whānau. Many significant artworks were conceived or created in this space. Hotere was widely considered New Zealand's greatest living artist before his death in 2013, his work resides in significant private, national, and international collections. Known particularly for his use of black, he was a master of darkness creating powerful poetic pieces threaded with symbolism and historic references, imbued with uncompromising emotion; grief, loss, remembrance, and outrage - strong feelings founded in a deep love of people and place. The studio is an intimate insight into his life, his generosity of spirit for his friends, respect for the materials he worked with, and as a space he manipulated and embellished where he could conceive and create his work. The studio resonates with its outstanding aesthetic, historic, and cultural values and has special social significance. The studio remains a powerful symbol of the historically and artistically significant work he created while living in Port Chalmers.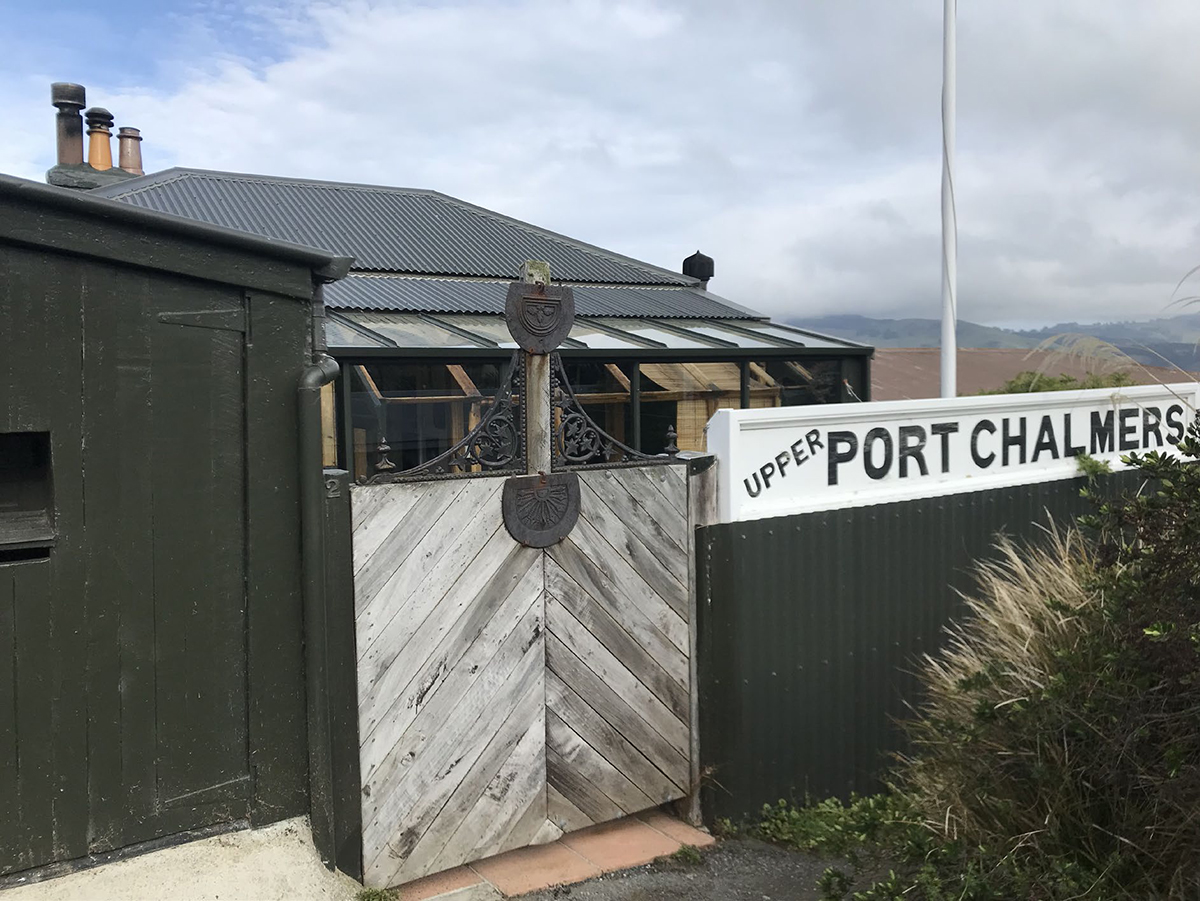 Studio of Ralph Hotere (Former), Port Chalmers | S Gallagher | 04/09/2019 | Heritage New Zealand
List Entry Status
Historic Place Category 1
Access
Private/No Public Access
Date Entered
4th April 2022
Date of Effect
5th May 2022
City/District Council
Dunedin City
Extent of List Entry
Extent includes the land described as Pt Sec 144 TN of Port Chalmers (RT 226/227), Otago Land District and the building associated with Ralph Hotere, the flagpole and street-fronting fence, Upper Port Chalmers sign and gate thereon, and the chattels, sculpture by Chris Booth and sculpture by Marté Szirmay. (Refer to map in Appendix 1 of the List entry report for further information).
Legal description
Pt Sec 144 TN of Port Chalmers (RT 226/227), Otago Land District
Stay up to date with Heritage this month